Silver prices scale new high, crosses Rs 75000 per kg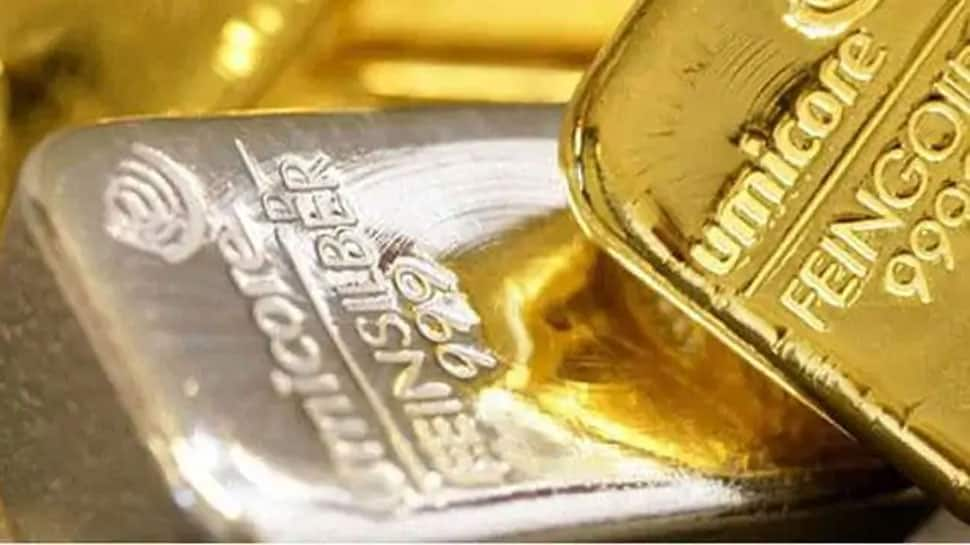 New Delhi: Gold and Silver prices are witnessing newer highs in line with a strong rally in international price of the precious metal.
Silver prices saw new high on Thursday, jumping Rs 1,932 to Rs 75,755 per kg in the national capital from Rs 73,823 per kg in the previous trade. Gold prices rose by Rs 225 to Rs 56,590 per 10 gram in the national capital on Thursday, according to HDFC Securities.
The precious yellow metal had closed at Rs 56,365 per 10 gram in the previous trade.
Spot gold prices for 24 carat in Delhi rose by Rs 225 with strong rally in international prices. In the international market, gold was trading with gains at USD 2,045.70 per ounce, while silver was quoting at USD 27.57 per ounce.
Meanwhile, in futures trade, Silver futures for September delivery contract jumped 5.18 percent to Rs 75,620 per kg at 17:12 hours on a business turnover of 15,882 lots as participants widened their bets on firm spot demand and global cues.
As per the analysts the rise in silver prices was mostly due to fresh positions built up by participants on a positive domestic trend.
In the international market, Silver, meanwhile, gained 2.8% to $27.78 per ounce having hit its highest since April 2013 at $27.85. Platinum rose 0.9% to $975.80 and palladium was up 1% at $2,203.25.
(function(d, s, id) {
var js, fjs = d.getElementsByTagName(s)[0];
if (d.getElementById(id)) return;
js = d.createElement(s); js.id = id;
js.src = "https://connect.facebook.net/en_US/sdk.js#xfbml=1&version=v2.9";
fjs.parentNode.insertBefore(js, fjs);
}(document, 'script', 'facebook-jssdk'));
(function ($) {
/*Drupal.behaviors.pagerload = {
attach: function (context, settings) {*/
$(document).ready(function(){
$(".sidebar").theiaStickySidebar();
/*$.get( "/hindi/zmapp/mobileapi/sections.php?sectionid=17,18,19,23,21,22,25,20", function( data ) {
$( "#sub-menu" ).html( data );
alert( "Load was performed." );
});*/
var nextpath=""; var pg = 1;
var nextload= true;
var string = ";var ice = 0;
var playerFly;
var load = '
';
var cat = "?cat=657606";
//$(".main-rhs2301043″).theiaStickySidebar();
var instagram_script=document.createElement('script');
instagram_script.defer="defer";
instagram_script.async="async";
instagram_script.src="https://platform.instagram.com/en_US/embeds.js";
document.head.appendChild(instagram_script);
/*************************************/
/*$(window).scroll(function(){
var last = $('div.listing').filter('div:last');
var lastHeight = last.offset().top ;
if(lastHeight + last.height() = 360) {
angle = 1;
}
angle += angle_increment;
}.bind(this),interval);
},
success: function(data){
nextload=false;
//console.log("success");
//console.log(data);
$.each(data['rows'], function(key,val){
//console.log("data found");
ice = 2;
if(val['id']!='2301043′){
string = '
';
$('div.listing').append(string);
}
});
},
error:function(xhr){
//console.log("Error");
//console.log("An error occured: " + xhr.status + " " + xhr.statusText);
nextload=false;
},
complete: function(){
$('div.listing').find(".loading-block").remove();;
pg +=1;
//console.log("mod" + ice%2);
nextpath="&page=" + pg;
//console.log("request complete" + nextpath);
cat = "?cat=657606";
//console.log(nextpath);
nextload=(ice%2==0)?true:false;
}
});
}
//lastoff = last.offset();
//console.log("**" + lastoff + "**");
});*/
var maindiv = false;
var dis = 0;
var fbcontainer="";
var fbid = ";
var fb_script=document.createElement('script');
fb_script.text= "(function(d, s, id) {var js, fjs = d.getElementsByTagName(s)[0];if (d.getElementById(id)) return;js = d.createElement(s); js.id = id;js.src="https://connect.facebook.net/en_GB/sdk.js#xfbml=1&version=v2.9″;fjs.parentNode.insertBefore(js, fjs);}(document, 'script', 'facebook-jssdk'));";
var fmain = $(".sr2301043");
//alert(x+ "-" + url);
var fdiv = '
';
//console.log(fdiv);
//$(fb_script).appendTo(fmain);
$(fdiv).appendTo(fmain);
function fillElementWithAd($el, slotCode, size, targeting){
if (typeof targeting === 'undefined') {
targeting = {};
} else if ( Object.prototype.toString.call( targeting ) !== '[object Object]' ) {
targeting = {};
}
var elId = $el.attr('id');
//console.log("elId:" + elId);
googletag.cmd.push(function(){
var slot = googletag.defineSlot(slotCode, size, elId);
for (var t in targeting){
slot.setTargeting(t, targeting[t]);
}
slot.addService(googletag.pubads());
googletag.display(elId);
//googletag.pubads().refresh([slot]);
});
}
$(document).delegate("button[id^='mf']", "click", function(){
fbcontainer="";
fbid = '#' + $(this).attr('id');
var sr = fbid.replace("#mf", ".sr");
$(fbid).parent().children(sr).toggle();
fbcontainer = $(fbid).parent().children(sr).children(".fb-comments").attr("id");
});
function onPlayerStateChange(event){
var ing, fid;
//console.log(event + "—player");
$('iframe[id*="video-"]').each(function(){
_v = $(this).attr('id');
//console.log("_v: " + _v);
if(_v != event){
//console.log("condition match");
ing = new YT.get(_v);
if(ing.getPlayerState()=='1′){
ing.pauseVideo();
}
}
});
$('div[id*="video-"]').each(function(){
_v = $(this).attr('id');
//console.log("_v: " + _v + " event: " + event);
if(_v != event){
//jwplayer(_v).play(false);
}
});
}
function onYouTubePlay(vid, code, playDiv,vx, pvid){
if (typeof(YT) == 'undefined' || typeof(YT.Player) == 'undefined') {
var tag = document.createElement('script');
tag.src = "https://www.youtube.com/iframe_api";
var firstScriptTag = document.getElementsByTagName('script')[0];
firstScriptTag.parentNode.insertBefore(tag, firstScriptTag);
window.onYouTubePlayerAPIReady = function() {
onYouTubePlayer(vid, code, playDiv,vx, pvid);
};
}else{onYouTubePlayer(vid, code, playDiv,vx, pvid);}
}
function onYouTubePlayer(vid, code, playDiv,vx, pvid){
//console.log(playDiv + "Get Youtue " + vid);
//$("#"+vid).find(".playvideo-"+ vx).hide();
var player = new YT.Player(playDiv , {
height: '450',
width: '100%',
videoId:code,
playerVars: {
'autoplay': 1,
'showinfo': 1,
'controls': 1
},
events: {
'onStateChange': function(event){
onPlayerStateChange(event.target.a.id);
}
}
});
$("#video-"+vid).show();
}
function anvatoPlayerAPIReady(vid, code, playDiv,vx, pvid,vurl){
AnvatoPlayer(playDiv).init({
"url": code,
"title1″:"",
"autoplay":true,
"share":false,
"pauseOnClick":true,
"expectPreroll":true,
"width":"100%",
"height":"100%",
"poster":"",
"description":"",
"plugins":{
"googleAnalytics":{
"trackingId":"UA-2069755-1″,
"events":{
"PLAYING_START":{
"alias" : "play – zee english video",
"category" : "zee english video",
"label" : "https://zeenews.india.com" + vurl,
"metric" : "1"
},
"BUFFER_START":{
"alias" : "buffer – zee english video",
"category" : "zee english video",
"label" : "https://zeenews.india.com" + vurl,
"metric" : "2"
},
"AD_BREAK_STARTED":{
"alias" : "break – zee english video",
"category" : "zee english video",
"label" : "https://zeenews.india.com" + vurl,
"metric" : "3"
},
"VIDEO_COMPLETED":{
"alias" : "complete – zee english video",
"category" : "zee english video",
"label" : "https://zeenews.india.com" + vurl,
"metric" : "4"
}
}
},
"dfp":{
"clientSide":{
"adTagUrl":"https://pubads.g.doubleclick.net/gampad/ads?sz=640×480&iu=/11440465/Zeenews_English_Video/Zeenews_English_Preroll&impl=s&gdfp_req=1&env=vp&output=vast&unviewed_position_start=1&url=https://zeenews.india.com"+vurl+"&description_url=https://zeenews.india.com"+vurl+"&correlator=[timestamp]",
}
}
}
});
}
$(document).delegate("div[id^='play']", "click", function(){
//console.log($(this).attr("id"));
//console.log($(this).attr("video-source"));
//console.log($(this).attr("video-code"));
var isyoutube = $(this).attr("video-source");
var vurl = $(this).attr("video-path");
var vid = $(this).attr("id");
$(this).hide();
var pvid = $(this).attr("newsid");
var vx = $(this).attr("id").replace('play-',");
var vC = $(this).attr("video-code");
var playDiv = "video-" + vid + "-" + pvid;
if(isyoutube =='No'){
anvatoPlayerAPIReady(vid, vC, playDiv,vx, pvid, vurl);
}else{
onYouTubePlay(vid, vC, playDiv,vx, pvid);
}
});
$(document).delegate("div[id^='ptop']", "click", function(){
var vid = $(this).attr("id").replace('ptop',");
$(this).hide();
var pvid = $(this).attr("newsid");
var vurl = $(this).attr("video-path");
//console.log($(this).attr("id") + "–" + vid);
//console.log($(this).parent().children().find('#play-'+vid).attr("video-source"));
//console.log($(this).parent().children().find('#play-'+vid).attr("video-code"));
var isyoutube = $(this).parent().children().find('#play-'+vid).attr("video-source");
var vC = $(this).parent().children().find('#play-'+vid).attr("video-code");
var playDiv = "mvideo-play-" + vid + "-" + pvid;
if(isyoutube =='No'){
//console.log(jwplayer($(this).attr("id")).getState());
anvatoPlayerAPIReady($(this).attr("id"), vC, playDiv, vid, pvid, vurl);
}else{
onYouTubePlay($(this).attr("id"), vC, playDiv, vid, pvid);
}
});
var nxti = 3;
var ci = 1;
var nxti_1 = 6;
var nxti_2 = 9;
var nxti_3 = 12;
//console.log("totalPCount: " + $("#star2301043 > div.field-name-body > div.field-items > div.field-item").children('p').length);
var pl = $("#star2301043 > div.field-name-body > div.field-items > div.field-item").children('p').length;
var adcount = 0;
var adcode="/11440465/Zeenews_English_Web/Zeenews_English_AS_Inarticle_1_300x250″;
if(pl>3){
$("#star2301043 > div.field-name-body > div.field-items > div.field-item").children('p').each(function(i, n){
ci = parseInt(i) + 1; t=this;
var htm = $(this).html();
d = $("
");
if((i+1)%3==0 && (i+1)>2 && $(this).html().length>20 && ci<pl && adcount<3){
if(adcount<2){
d.insertAfter(t);fillElementWithAd(d, adcode, [300, 250], {});
adcode="/11440465/Zeenews_English_Web/Zeenews_English_AS_Inarticle_2_300x250";
}else if(adcount == 2){
$('
').insertAfter(t);
}
adcount++;
}else if(adcount>=3){
return false;
}
});
}
if($.autopager==false){
var use_ajax = false;
/*var disqus_shortname="zeehindi";
var disqus_identifier; //made of post id and guid
var disqus_url; //post permalink
function loadDisqus(source, identifier, url, nid) {
if (window.DISQUS) {
//alert("if");
jQuery('
').insertAfter(source);
jQuery('#disqus_thread').insertAfter(source); //append the HTML after the link
//if Disqus exists, call it's reset method with new parameters
DISQUS.reset({
reload: true,
config: function () {
this.page.identifier = identifier;
this.page.url = url;
}
});
}else{
jQuery('
').insertAfter(source);
disqus_identifier = identifier; //set the identifier argument
disqus_url = url; //set the permalink argument
//append the Disqus embed script to HTML
var dsq = document.createElement('script'); dsq.type="text/javascript"; dsq.async = true;
dsq.src="http://" + disqus_shortname + '.disqus.com/embed.js';
jQuery('head').append(dsq);
}
};*/
/*$('.disqusOn').live( "click", notify );
function notify() {
identifier = $(this).attr('id');
dUrl = $(this).attr('disqus-url');
source = $(this).parent();
loadDisqus(jQuery(this), identifier, dUrl);
}*/
function loadshare(curl){
history.replaceState(" ,", curl);
if(window.OBR){
window.OBR.extern.researchWidget();
}
//console.log("loadshare Call->" + curl);
//$('html head').find('title').text("main" + nxtTitle);
if(_up == false){
var cu_url = curl;
gtag('config', 'UA-2069755-1', {'page_path': cu_url });
if(window.COMSCORE){
window.COMSCORE.beacon({c1: "2", c2: "9254297"});
var e = Date.now();
$.ajax({
url: "/marathi/news/zscorecard.json?" + e,
success: function(e) {}
})
}
//console.log('ga:'+r);
/*(function () {
var ga = document.createElement('script'); ga.type="text/javascript"; ga.async = true;
ga.src = ('https:' == document.location.protocol ? 'https://' : 'http://') + 'stats.g.doubleclick.net/dc.js';
var s = document.getElementsByTagName('script')[0]; s.parentNode.insertBefore(ga, s);
})();*/
//console.log("loadshare Call");
}
}
if(use_ajax==false) {
//console.log('getting');
var view_selector="div.center-section"; // + settings.view_name; + '.view-display-id-' + settings.display;
var content_selector = view_selector; // + settings.content_selector;
var items_selector = content_selector + ' > div.rep-block'; // + settings.items_selector;
var pager_selector="div.next-story-block > div.view-zn-article-mc-all-2017 > div.view-content > div.clearfix"; // + settings.pager_selector;
var next_selector="div.next-story-block > div.view-zn-article-mc-all-2017 > div.view-content > div.clearfix > a:last"; // + settings.next_selector;
var auto_selector="div.tag-block";
var img_location = view_selector + ' > div.rep-block:last';
var img_path="
"; //settings.img_path;
//var img = '
' + img_path + '
';
var img = img_path;
//$(pager_selector).hide();
//alert($(next_selector).attr('href'));
var x = 0;
var url="";
var prevLoc = window.location.pathname;
var circle = "";
var myTimer = "";
var interval = 30;
var angle = 0;
var Inverval = "";
var angle_increment = 6;
var handle = $.autopager({
appendTo: content_selector,
content: items_selector,
runscroll: maindiv,
link: next_selector,
autoLoad: false,
page: 0,
start: function(){
$(img_location).after(img);
circle = $('.center-section').find('#green-halo');
myTimer = $('.center-section').find('#myTimer');
angle = 0;
Inverval = setInterval(function (){
$(circle).attr("stroke-dasharray", angle + ", 20000");
//myTimer.innerHTML = parseInt(angle/360*100) + '%';
if (angle >= 360) {
angle = 1;
}
angle += angle_increment;
}.bind(this),interval);
},
load: function(){
$('div.loading-block').remove();
clearInterval(Inverval);
//$('.repeat-block > .row > div.main-rhs2301043').find('div.rhs2301043:first').clone().appendTo('.repeat-block >.row > div.main-rhs' + x);
$('div.rep-block > div.main-rhs2301043 > div:first').clone().appendTo('div.rep-block > div.main-rhs' + x);
$('.center-section >.row:last').before('
Next Story
');
//$(".main-rhs" + x).theiaStickySidebar();
var fb_script=document.createElement('script');
fb_script.text= "(function(d, s, id) {var js, fjs = d.getElementsByTagName(s)[0];if (d.getElementById(id)) return;js = d.createElement(s); js.id = id;js.src="https://connect.facebook.net/en_GB/sdk.js#xfbml=1&version=v2.9″;fjs.parentNode.insertBefore(js, fjs);}(document, 'script', 'facebook-jssdk'));";
var fmain = $(".sr"+ x);
//alert(x+ "-" + url);
var fdiv = '
';
//$(fb_script).appendTo(fmain);
$(fdiv).appendTo(fmain);
FB.XFBML.parse();
var $dfpAd = $('.center-section').children().find("#ad-"+ x);
//console.log($dfpAd);
/*var pl = $("#star2301043 > div.field-name-body > div.field-items > div.field-item").children('p').length;
if(pl>3){
xp = "#star"+x;
$(xp +" > div.field-name-body > div.field-items > div.field-item").children('p').each(function(i, n){
ci= parseInt(i) + 1; t=this;
d = $("
ad Space
");
console.log("i: " + i + " ci:" + ci + " n:" + n);
console.log(this);
if(ci%3==0){d.insertAfter(t);fillElementWithAd(d, '/11440465/Zeenews_English_Web/Zeenews_English_AS_Inarticle_1_300x250', [300, 250], {});}
});
}*/
xp = "#star"+x;
var pl = $(xp + " > div.field-name-body > div.field-items > div.field-item").children('p').length;
if(pl>3){
$(xp + " > div.field-name-body > div.field-items > div.field-item").children('p').each(function(i, n){
ci= parseInt(i) + 1; t=this;
d = $("
");
//console.log("i: " + i + " ci:" + ci + " n:" + n);
//console.log(this);
if(i==2){d.insertAfter(t);fillElementWithAd(d, '/11440465/Zeenews_English_Web/Zeenews_English_AS_Inarticle_1_300x250', [300, 250], {});
}
/*if(pl>8){
if(i==(pl-2)){d.insertAfter(t);fillElementWithAd(d, '/11440465/Zeenews_English_Web/Zeenews_English_AS_Inarticle_1_300x250', [300, 250], {});
}
}*/
});
}
//var $dfpAdrhs = $('.main-rhs' + x).children().find('.adATF').empty().attr("id", "ad-300-" + x); //$('.content-area > .main-article > .row > .main-rhs'+x).find('#ad-300-' + x);
//var $dfpAdrhs2 = $('.main-rhs' + x).children().find('.adBTF').empty().attr("id", "ad-300-2-" + x);//$('.content-area > .main-article > .row > .main-rhs'+x).find('#ad-300-2-' + x);
//var $dfpMiddleAd = $('.content-area > .main-article > .row').find('#ar'+x).find('#ad-middle-' + x).empty();
//fillElementWithAd($dfpAdrhs, '/11440465/Zeenews_English_Web/Zeenews_English_AS_ATF_300x250', [[300, 250], [300, 600]], {});
//fillElementWithAd($dfpAdrhs2, '/11440465/Zeenews_English_Web/Zeenews_English_AS_BTF_1_300x250', [300, 250], {});
//fillElementWithAd($dfpMiddleAd, '/11440465/Zeenews_Hindi_Article_Middle_300x250_BTF', [300, 250], {});
var instagram_script=document.createElement('script');
instagram_script.defer="defer";
instagram_script.async="async";
instagram_script.src="https://platform.instagram.com/en_US/embeds.js";
/*var outbrain_script=document.createElement('script');
outbrain_script.type="text/javascript";
outbrain_script.async="async";
outbrain_script.src="https://widgets.outbrain.com/outbrain.js";
var Omain = $("#outbrain-"+ x);
//alert(Omain + "–" + $(Omain).length);
$(Omain).after(outbrain_script);
var rhs = $('.main-article > .row > div.article-right-part > div.rhs2301043:first').clone();
$(rhs).find('.ad-one').attr("id", "ad-300-" + x).empty();
$(rhs).find('.ad-two').attr("id", "ad-300-2-" + x).empty();
//$('.main-article > .row > div.article-right-part > div.rhs2301043:first').clone().appendTo('.main-article > .row > div.main-rhs' + x);
$(rhs).appendTo('.main-article > .row > div.main-rhs' + x); */
setTimeout(function(){
var twit = $("div.field-name-body").find('blockquote[class^="twitter"]').length;
var insta = $("div.field-name-body").find('blockquote[class^="instagram"]').length;
if(twit==0){twit = ($("div.field-name-body").find('twitterwidget[class^="twitter"]').length);}
if(twit>0){
if (typeof (twttr) != 'undefined') {
twttr.widgets.load();
} else {
$.getScript('https://platform.twitter.com/widgets.js');
}
//$(twit).addClass('tfmargin');
}
if(insta>0){
$('.content > .left-block:last').after(instagram_script);
//$(insta).addClass('tfmargin');
window.instgrm.Embeds.process();
}
}, 1500);
}
});
/*$("#loadmore").click(function(){
x=$(next_selector).attr('id');
var url = $(next_selector).attr('href');
disqus_identifier="ZNH" + x;
disqus_url = url;
handle.autopager('load');
history.pushState(" ,", url);
setTimeout(function(){
//twttr.widgets.load();
//loadDisqus(jQuery(this), disqus_identifier, disqus_url);
}, 6000);
});*/
/*$("button[id^='mf']").live("click", disqusToggle);
function disqusToggle() {
console.log("Main id: " + $(this).attr('id'));
}*/
$(document).delegate("button[id^='mf']", "click", function(){
fbcontainer="";
fbid = '#' + $(this).attr('id');
var sr = fbid.replace("#mf", ".sr");
//console.log("Main id: " + $(this).attr('id') + "Goodbye!jQuery 1.4.3+" + sr);
$(fbid).parent().children(sr).toggle();
fbcontainer = $(fbid).parent().children(sr).children(".fb-comments").attr("id");
//console.log(fbcontainer);
//var commentsContainer = document.getElementById(fbcontainer);
//commentsContainer.innerHTML = ";
});
/************Player Code ***********/
var title, imageUrl, description, author, shortName, identifier, timestamp, summary, newsID, nextnews;
var previousScroll = 0;
//console.log("prevLoc" + prevLoc);
$(window).scroll(function(){
var last = $(auto_selector).filter(':last');
var lastHeight = last.offset().top ;
//st = $(layout).scrollTop();
//console.log("st:" + st);
var currentScroll = $(this).scrollTop();
if (currentScroll > previousScroll){
_up = false;
} else {
_up = true;
}
previousScroll = currentScroll;
//console.log("_up" + _up);
var cutoff = $(window).scrollTop() + 64;
//console.log(cutoff + "**");
$('div[id^="row"]').each(function(){
//console.log("article" + $(this).children().find('.left-block').attr("id") + $(this).children().find('.left-block').attr('data-url'));
if($(this).offset().top + $(this).height() > cutoff){
//console.log("$$" + $(this).children().find('.left-block').attr('data-url'));
if(prevLoc != $(this).children().find('.left-block').attr('data-url')){
prevLoc = $(this).children().find('.left-block').attr('data-url');
$('html head').find('title').text($(this).children().find('.left-block').attr('data-title'));
$('meta[name=description]').attr("content",$(this).children().find('.left-block').attr('data-summary'));
$('meta[name=keywords]').attr("content",$(this).children().find('.left-block').attr('data-keyword'));
$('meta[name=news_keywords]').attr("content",$(this).children().find('.left-block').attr('data-keyword'));
pSUPERFLY.virtualPage(prevLoc,$(this).children().find('.left-block').attr('data-title'));
//console.log("Summary: " + $(this).children().find('.left-block').attr('data-summary'));
//console.log("Keyword: " + $(this).children().find('.left-block').attr('data-keyword'));
//history.pushState(" ,", prevLoc);
loadshare(prevLoc);
}
return false; // stops the iteration after the first one on screen
}
});
if(lastHeight + last.height() < $(document).scrollTop() + $(window).height()){
//console.log("**get");
url = $(next_selector).attr('href');
x=$(next_selector).attr('id');
//console.log("x:" + x);
//handle.autopager('load');
/*setTimeout(function(){
//twttr.widgets.load();
//loadDisqus(jQuery(this), disqus_identifier, disqus_url);
}, 6000);*/
}
//lastoff = last.offset();
//console.log("**" + lastoff + "**");
});
//$( ".content-area" ).click(function(event) {
// console.log(event.target.nodeName);
//});
/*$( ".comment-button" ).live("click", disqusToggle);
function disqusToggle() {
var id = $(this).attr("id");
$("#disqus_thread1" + id).toggle();
};*/
//$(".main-rhs2301043").theiaStickySidebar();
var prev_content_height = $(content_selector).height();
//$(function() {
var layout = $(content_selector);
var st = 0;
///});
}
}
});
/*}
};*/
})(jQuery);
(function() {
var reset_scroll;
$(function() {
return $("[data-sticky_column]").stick_in_parent({
parent: "[data-sticky_parent]"
});
});
reset_scroll = function() {
var scroller;
scroller = $("body,html");
scroller.stop(true);
if ($(window).scrollTop() !== 0) {
scroller.animate({
scrollTop: 0
}, "fast");
}
return scroller;
};
window.scroll_it = function() {
var max;
max = $(document).height() – $(window).height();
return reset_scroll().animate({
scrollTop: max
}, max * 3).delay(100).animate({
scrollTop: 0
}, max * 3);
};
window.scroll_it_wobble = function() {
var max, third;
max = $(document).height() – $(window).height();
third = Math.floor(max / 3);
return reset_scroll().animate({
scrollTop: third * 2
}, max * 3).delay(100).animate({
scrollTop: third
}, max * 3).delay(100).animate({
scrollTop: max
}, max * 3).delay(100).animate({
scrollTop: 0
}, max * 3);
};
$(window).on("resize", (function(_this) {
return function(e) {
return $(document.body).trigger("sticky_kit:recalc");
};
})(this));
}).call(this);
body{overflow:hidden}
.article-tag-link{margin:5px 0px;padding:0px;font-size:14px;font-weight:700;color:#e21727;text-transform:uppercase;}
.article-tag-link a{color:#e21727;}
.article-widgetpara{font-size:38px;color:#191c20;line-height:normal;margin-bottom:10px;}
.article-widgetpara a{font-size:38px;color:#191c20;line-height:normal;}
.widget-image-block{position:relative;height:270px;overflow:hidden;}
.stry_ldmore{width:100%;position:absolute;bottom:0px;text-align:center;display:block;}
.stry_fdr{bottom:0;background:linear-gradient(to bottom, rgba(255, 255, 255, 0) 0%, rgba(255, 255, 255, 1) 100%) repeat scroll 0 0 rgba(0, 0, 0, 0);height:200px;position:absolute;width:100%;}
.stry_shwmre{background:#2089ff;color:#FFF;cursor:pointer;padding:10px 20px;text-align:center;position:relative;display:inline-block;left:50%;margin-left:-83px;border-top-left-radius:5px;border-top-right-radius: 5px;}
.stry_shwmre:hover{background:#1581f9}
.wid-line{border-bottom:1px solid #2089ff; position:absolute;bottom:0;width:100%;}
.widget-vs{padding-left:inherit;padding-right:inherit;}
.white-txt{color:#FFF !important;}
.article-head-block p{font-size:18px;color:#444;line-height:26px}
.play-b{width:70px;height:70px;top:50%;left:50%;position:absolute;z-index:1009;cursor:pointer;margin-left:-35px;margin-top:-35px;bottom:inherit;right:inherit;}
function on_load_google_ad(){
googletag.cmd.push(function() {
googletag.defineSlot('/11440465/Zeenews_English_Web/Zeenews_English_AS_ATF_970x90', [[970, 90], [970, 250], [970, 66], [728, 90]], 'div-gpt-ad-1504525832454-0').addService(googletag.pubads().setTargeting('category', ["Bullion","Gold Price","Silver Price","Gold Price Today","Silver Price Today"]));
googletag.defineSlot('/11440465/Zeenews_English_Web/Zeenews_English_AS_ATF_300x250', [[300, 600], [300, 250]], 'div-article-rhs-atf-ad').addService(googletag.pubads().setTargeting('category', ["Bullion","Gold Price","Silver Price","Gold Price Today","Silver Price Today"]));
googletag.defineSlot('/11440465/Zeenews_English_Web/Zeenews_English_AS_BTF_1_300x250', [300, 250], 'div-gpt-ad-1504525832454-2').addService(googletag.pubads().setTargeting('category', ["Bullion","Gold Price","Silver Price","Gold Price Today","Silver Price Today"]));googletag.defineSlot('/11440465/Zeenews_English_Web/Zeenews_English_AS_OOP_1x1', [1, 1], 'div-gpt-ad-1504526235866-6').addService(googletag.pubads().setTargeting('category', ["Bullion","Gold Price","Silver Price","Gold Price Today","Silver Price Today"]));
googletag.pubads().disableInitialLoad();
googletag.pubads().enableAsyncRendering();
googletag.pubads().set('page_url','https://zeenews.india.com/');
googletag.pubads().enableSingleRequest();
googletag.pubads().collapseEmptyDivs();
googletag.enableServices();
});
googletag.cmd.push(function() { googletag.display('div-article-rhs-atf-ad'); });
googletag.cmd.push(function() { googletag.display('div-gpt-ad-1504525832454-0'); });
googletag.cmd.push(function() { googletag.display('div-gpt-ad-1504525832454-2'); });
googletag.cmd.push(function() { googletag.display('div-gpt-ad-1504526235866-6'); });
}
on_load_google_ad();
function sendAdserverRequest() {
try {
if (pbjs && pbjs.adserverRequestSent) return;
googletag.cmd.push(function() {
googletag.pubads().refresh();
});
} catch (e) {
googletag.cmd.push(function() {
googletag.pubads().refresh();
});
}
}
setTimeout(function() { sendAdserverRequest(); }, 5000);
function on_load_fb_twitter_widgets(){
(function(d, s, id) {
var js, fjs = d.getElementsByTagName(s)[0];
if (d.getElementById(id)) return;
js = d.createElement(s); js.id = id;
js.src = "https://connect.facebook.net/en_US/sdk.js#xfbml=1&version=v2.9";
fjs.parentNode.insertBefore(js, fjs);
}(document, 'script', 'facebook-jssdk'));
window.twttr = (function(d, s, id) {
var js, fjs = d.getElementsByTagName(s)[0],
t = window.twttr || {};
if (d.getElementById(id)) return t;
js = d.createElement(s);
js.id = id;
js.src = "https://platform.twitter.com/widgets.js";
fjs.parentNode.insertBefore(js, fjs);
t._e = [];
t.ready = function(f) {
t._e.push(f);
};
return t;
}(document, "script", "twitter-wjs"));
}
//setTimeout(function() { on_load_google_ad(); }, 5000);
setTimeout(function() {
on_load_fb_twitter_widgets();
}, 5000);