Javed Akhtar Records Statement Against Kangana Ranaut In Defamation Case, Actress Says 'I May Have Chosen…'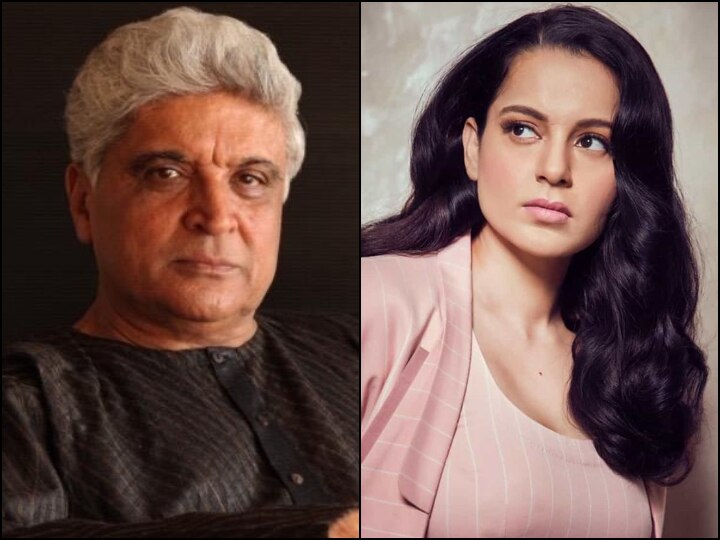 New Delhi:
Veteran lyricist Javed Akhtar appeared before a Magistrate Court in Mumbai on Thursday (December 3) for physical verification in connection with a defamation case which he filed against Bollywood actress Kangana Ranaut. Last month, Akhtar filed a defamation case against the 'Queen' star for allegedly causing damage to his reputation. He accused Ranaut of making derogatory comments against him on national and international media.
Also READ: Javed Akhtar Sues Kangana Ranaut For Defamation Over Allegations In Hrithik Roshan's Case
Javed Akhtar recorded his statement in connection with the case and provided details about his complaint. The court will take up the matter for hearing on December 19.
Kangana Ranaut REACTS After Javed Akhtar Appears Before Court
The 'Judgementall Hai Kya' actress posted a tweet after the lyricist recorded his statement against her on Thursday.
"Single woman/lone warrior fighting against Bullywood suicide gang, drug mafia, fascist government, tukde gang all at once, I may have chosen a difficult life but it's an honour to awaken my nation to all the threats we face against our unity and integrity," Kangana tweeted.
(Source- Twitter)
Why Did Javed Akhtar File Defamation Case Against Kangana?

Javed alleged that Kangana dragged his name unnecessarily in Sushant Singh Rajput's case. The 'Panga' actress, while talking to Republic TV, claimed that Akhtar called her to his house and asked her to apologise to Hrithik Roshan. She also said that the 'Sholay' writer yelled at her house at his place.
The 75-year-old filed a complaint against Kangana Ranaut under section 499 (Defamation) and section 500 (punishment for defamation) of the IPC. In his complaint, Akhtar said that the 'Manikarnika' actress defamed him by making allegations against him. He added that he faced heavy criticism and trolling on social media because of her comments.
Also READ: Kangana Ranaut & Diljit Dosanjh's Twitter Fight Turns Ugly, Actress Calls Him 'Karan Johar Ke Paltu'
Kangana is hogging all the limelight because of her Twitter feud with Diljit Dosanjh. The tinsel town celebs got engaged into war of words after the singer called out the 'Fashion' actress for posting tweet on farmers' protest without verifying facts.
Kangana and Diljit trended on social media after the actress called the 'Good Newwz' star Karan Johar's 'pet'. Dosanjh didn't take kindly to her words and asked the 'Gangster' star if she is the 'pet' of the filmmakers she has worked with.
The National Award winning actress posted a series of tweets to extend support to the Farms Bill 2020. She wrote, "I am with farmers, last year I activity promoted agroforestry and donated for the cause as well, I have been vocal about farmers exploitation and their problems also I worry a lot so prayed for resolves in this sector, which finally happened with this revolutionary bill."
She added that the bill will transform the lives of the farmers. "This Bill is going to transform farmers lives for better in many ways, I understand the anxiousness and effect of many rumours but I am certain government will address all doubts, please be patient. I am with my farmers and people of Punjab hold special place in my heart," her tweet read.
Watch this space for more updates!
Tags :
entertainment
featured