Celebrating the colours and strokes of India and Nepal in Hyderabad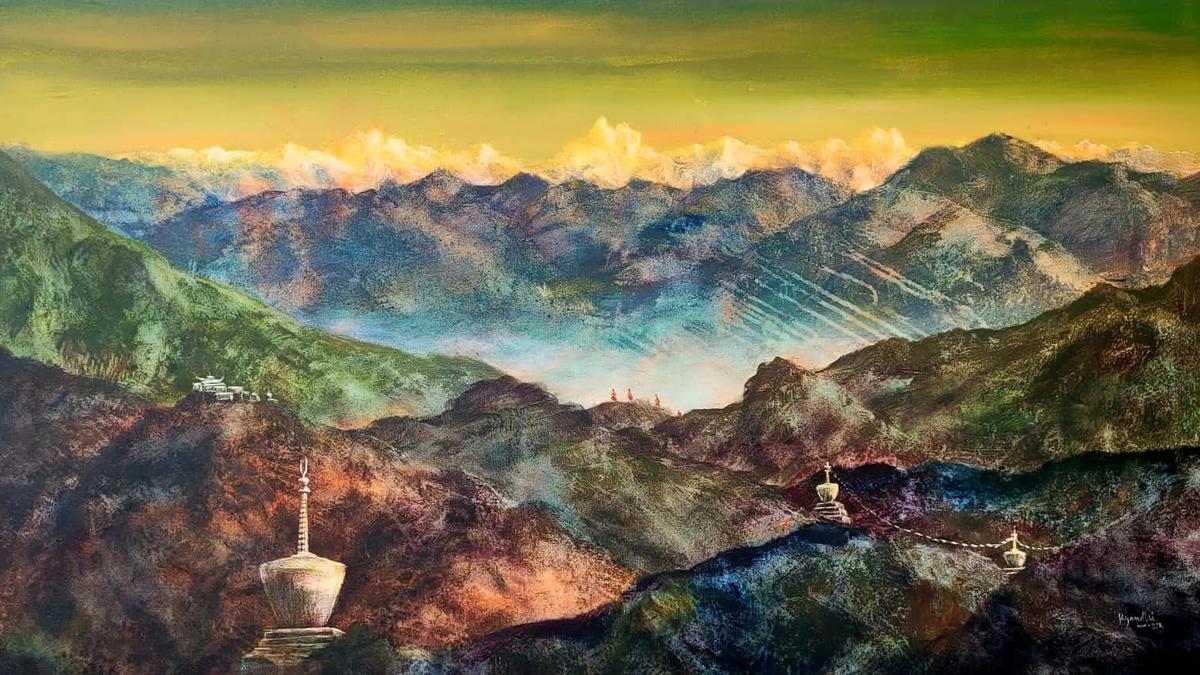 For six days — from January 19 to 24 — the ground floor at the State Art Gallery in Hyderabad turned into a studio space for 16 artists from across the country and Nepal as they transformed their thought processes on canvases. The resultant 32 paintings were created as part of this Indo-Nepal Art Symposium.
The paintings that reflect the environment are currently on display at the gallery till February 2. Besides Hyderabad-based Anjani Reddy, who is also the curator, the other artists are KK Gandhi, Anuradha Thakur, Ragini Upadhyay, Sushma Shakya, Asha Dangol, Koshal Hamal, Samundra Man Singh, Prachandya Shakya, Vimmi Indra, Shrikant Kadam, Gouri Vemula, Bijay Biswaal, Vivek Nimbolkar, Akshay Anand and Gurram Mallesham.
How it started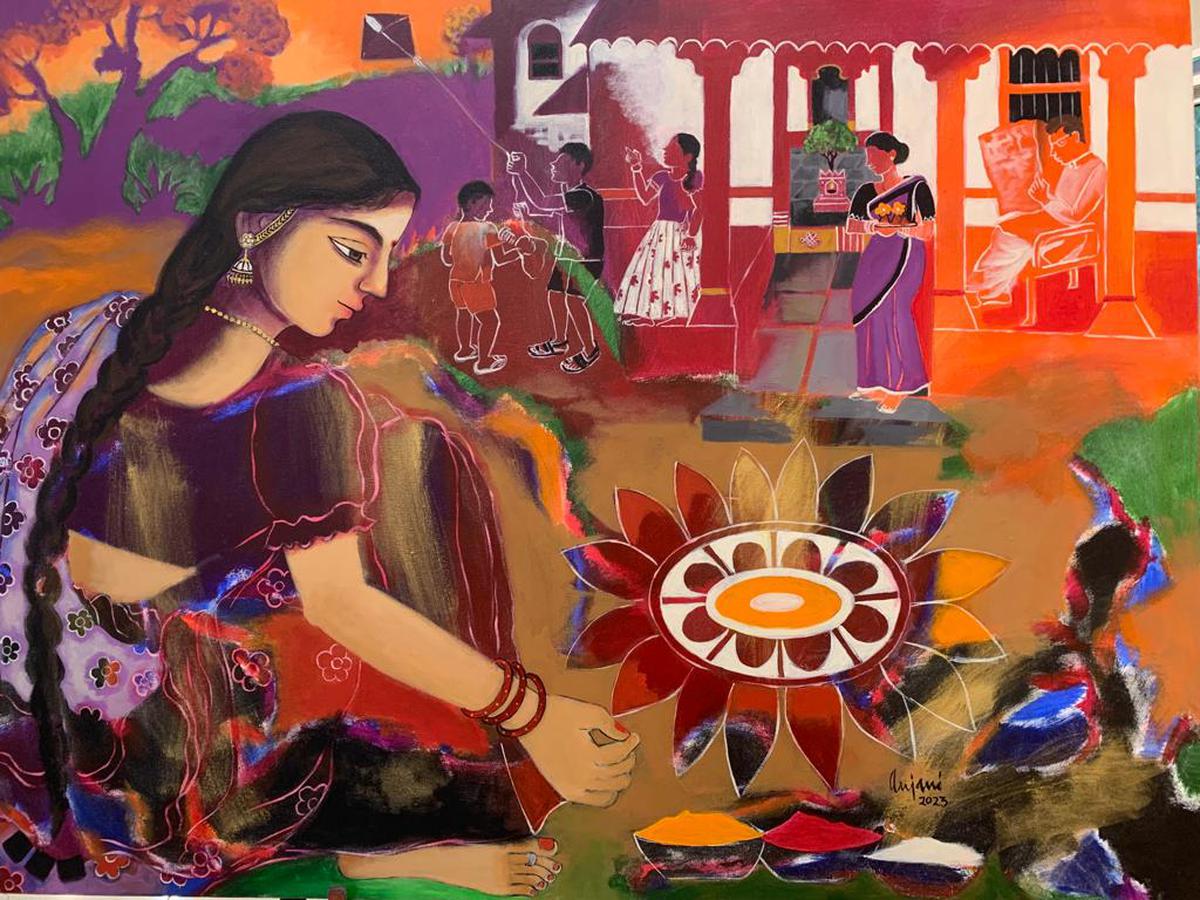 Anjani met a few Nepali artists for an art and music symposium at Vrindavan in Uttar Pradesh in August 2022. When they mentioned that they had not visited the southern part of India, Anjani thought of bringing different artists to one place and approached the director of the State Art Gallery, K Lakshmi Reddy, for facilitating it. "Six days of art, that is like friends meeting again," says Anjani.
While the medium used is acrylics — except Vimmi Indra who has used oil — each artist has created two works of 3×4 feet and 2×2 feet.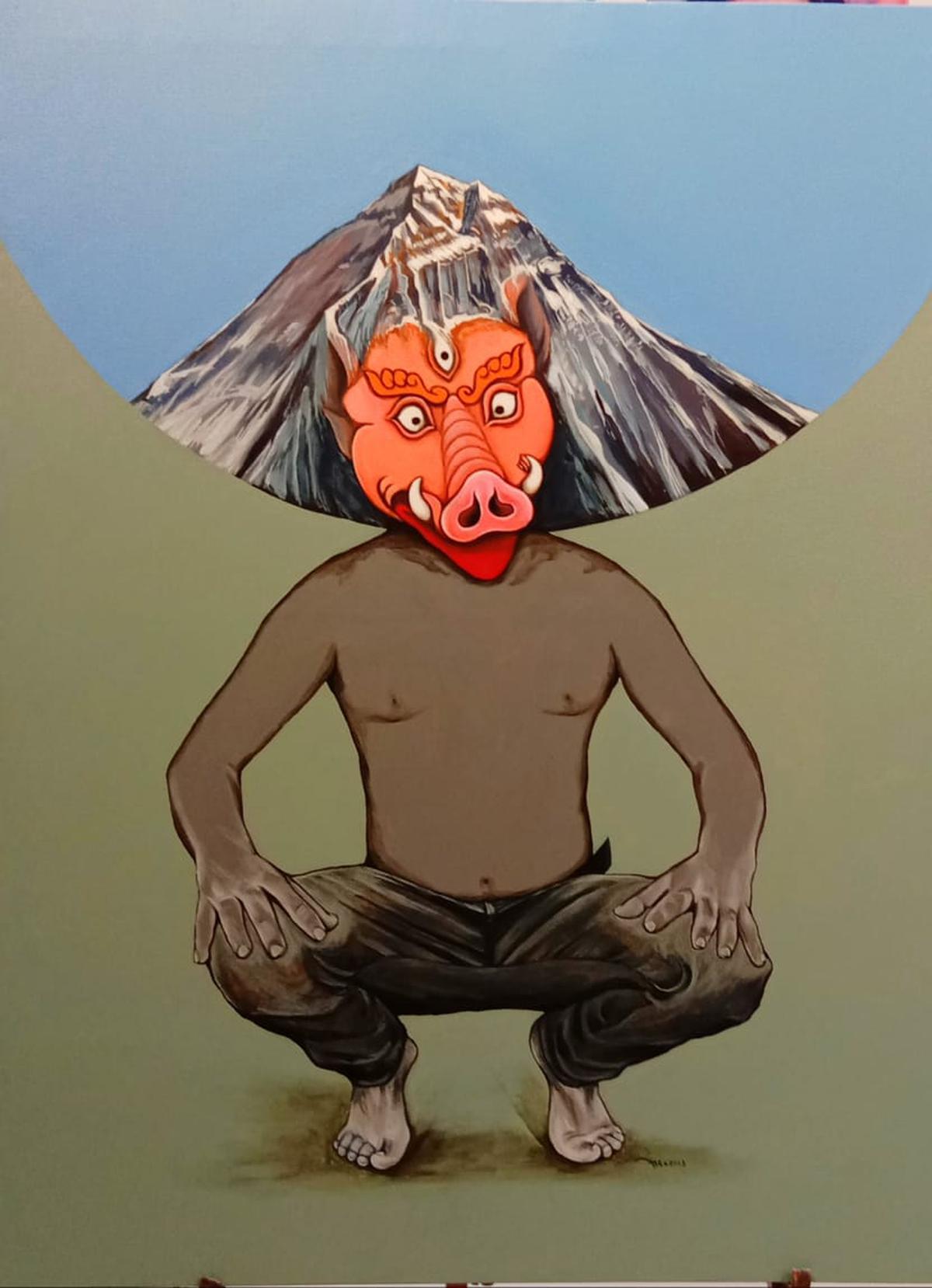 KK Gandhi's Land of Buddha brings alive the serenity of the Himalayas as monks walk towards a monastery. "I finished the painting in six hours on day one of the symposium," says the Jammu and Kashmir-based artist.
While Anjani's canvas is resplendent with celebrations of traditional Sankranti festivities in a village, Anuradha Thakur's painting, aptly titled Festive Colours, explores tribal life in a vibrant splash of colours.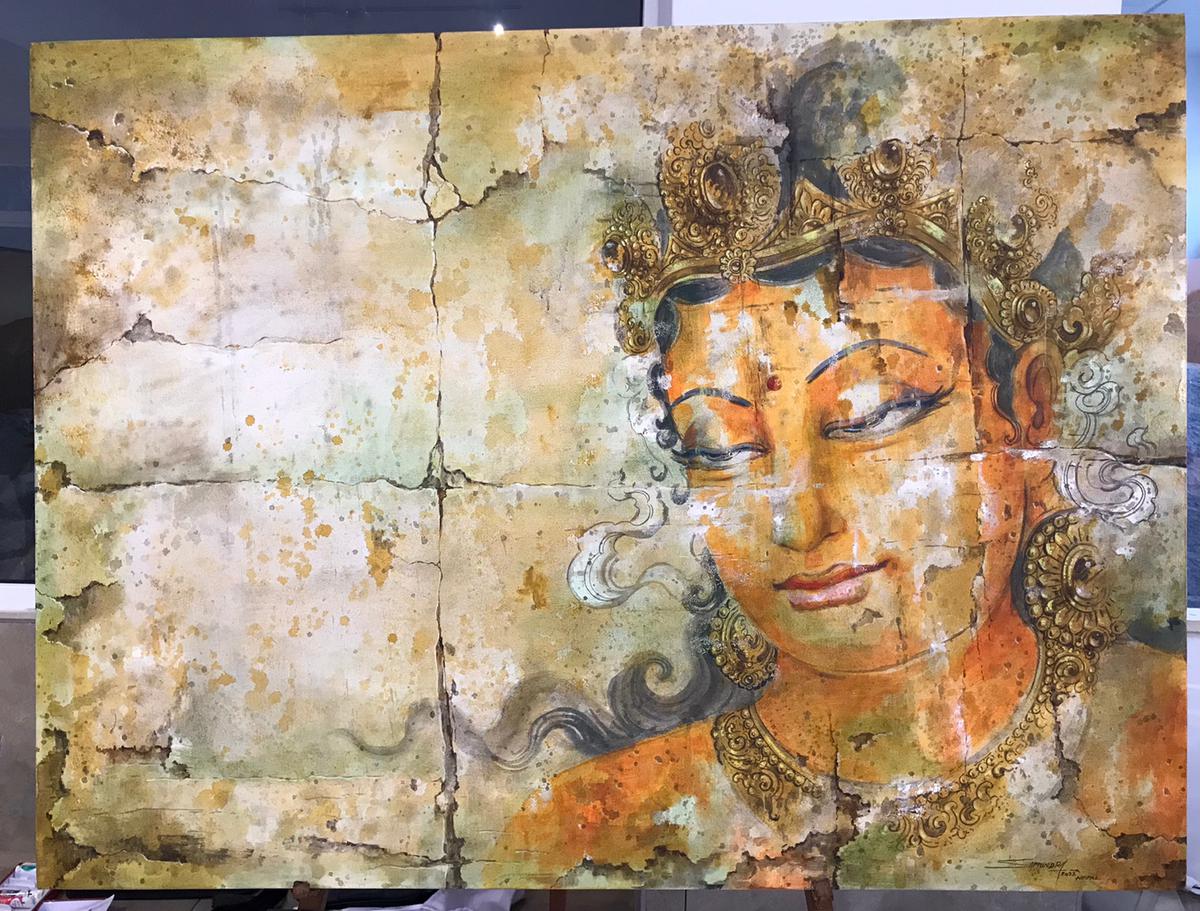 Ragini Upadhyay's painting focusses on the friendship between India and Nepal, and depicts a meeting of peacocks and Himalayan Monal (danphe) with a lotus and red rhododendron in their beaks (the national birds and flowers of India and Nepal respectively). Talking of the art scene in Nepal, the Kathmandu-based artist and former chancellor of the Nepal Academy of Fine Arts observes, "Traditional art — Thangka and Paubha is vibrant in Nepal. We are also well connected with international art. Nepal is a small but important country and our artists are doing well in international exhibitions."
Hyderabad-based Akshay Anand Singh pays tribute to his homeland by depicting the hustle-bustle of the Old City. His Joy to Hyderabad canvas depicts a typical scenario of the place with hawkers selling wares, shoppers, tourists, and foreigners exploring the Old City.
Gowri Vemula's tryst with the forest continues as imaginative figures of gods and goddesses co-exist with nature, men and women. Another work is on the zodiac sign Aries.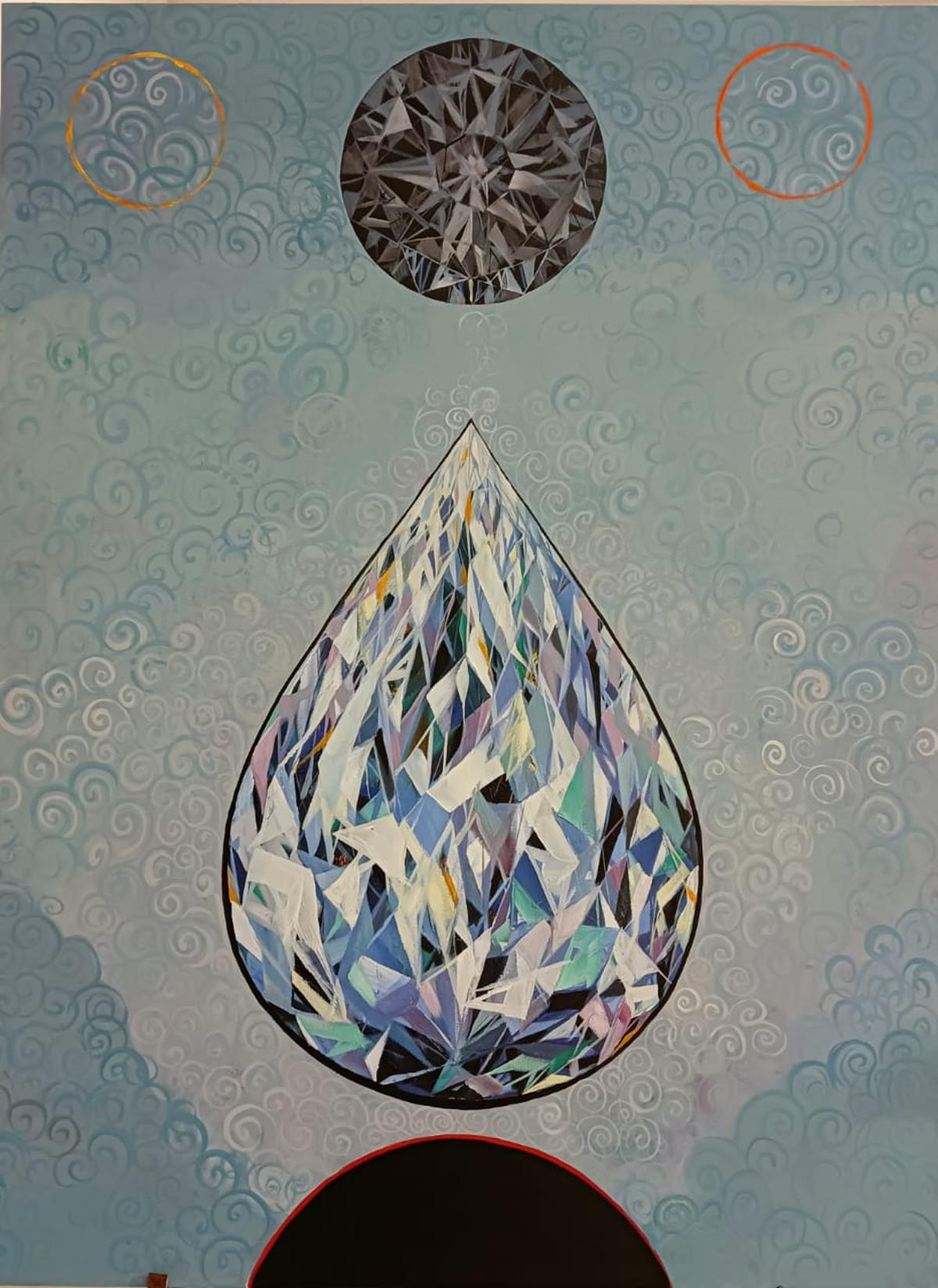 Inspired by the Kohinoor diamond, academic and artist Gurram Mallesham's acrylic painting glorifies the treasure in a beautiful tinge of blue, which emits a meditative light. Nagpur-based Vijay Biswas quit his railways job to focus on his passion. His playful Krishna is adorable in a narrative dream sequence. Vijay says, "I dream about art all the time and like to create feel-good paintings."
Kathmandu's Asha Dangol and Samudra Man Singh explore different themes. If Asha shows the wrath of Mount Everest because of pollution through his Varaha Rupam work, Samudra does a relic art.
Delhi-based Vimmi Indra's forte is cityscapes and she, sometimes, combines it with figurative elements like she has done here in her painting of a mother and child. "One cannot imagine a city without people," she says.
The artworks will be on display at State Art Gallery till February 2
Tags :
featured
Lifestyle