An art show in Kochi, Raga – The Rhythm of Art-intricately weaves stories of womanhood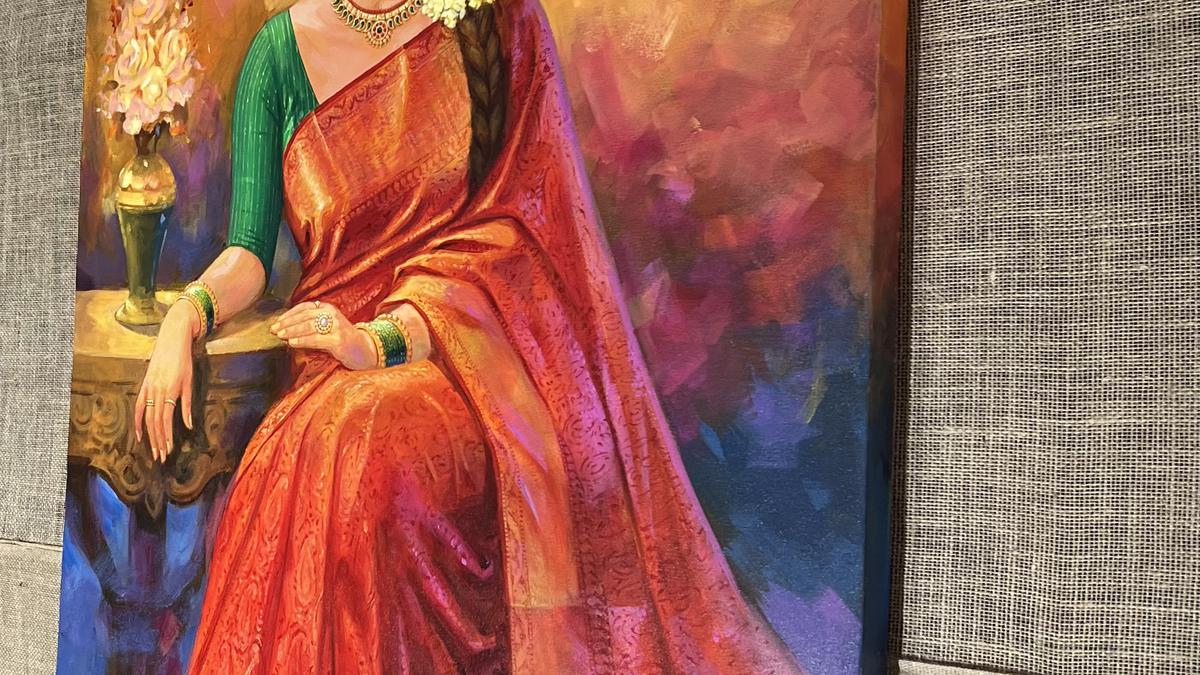 Embroidered poetry on a scarlet sari; nostalgic jasmine fragrance in the folds of a wedding sari; saris steeped in maternal love; a mosaic of Indian textiles, Kerala handlooms and an ode to the State, women freedom fighters and rag dolls, postcards to amma…. these soul-searching stories of womanhood and a living lineage form the core of Raga-The Rhythm of Art — a satellite exhibition of the Kochi Muziris Biennale at Vypin Water Metro Terminal. The narration also touches upon themes of sustainability, Azadi ka Amrit Mahotsav, the girl child, handmade and women employment.    
A ₹ 3 ticket on Ro-Ro vessel Sethusamudra from Fort Cochin boat jetty to Vypin Island, and a quick walk to the Metro Station on the opposite side will take you to the venue.  Maithri Srikant, curator says, "It is an intricate storytelling that weaves Indian art and textiles through the metaphor of the most important life force, the mother."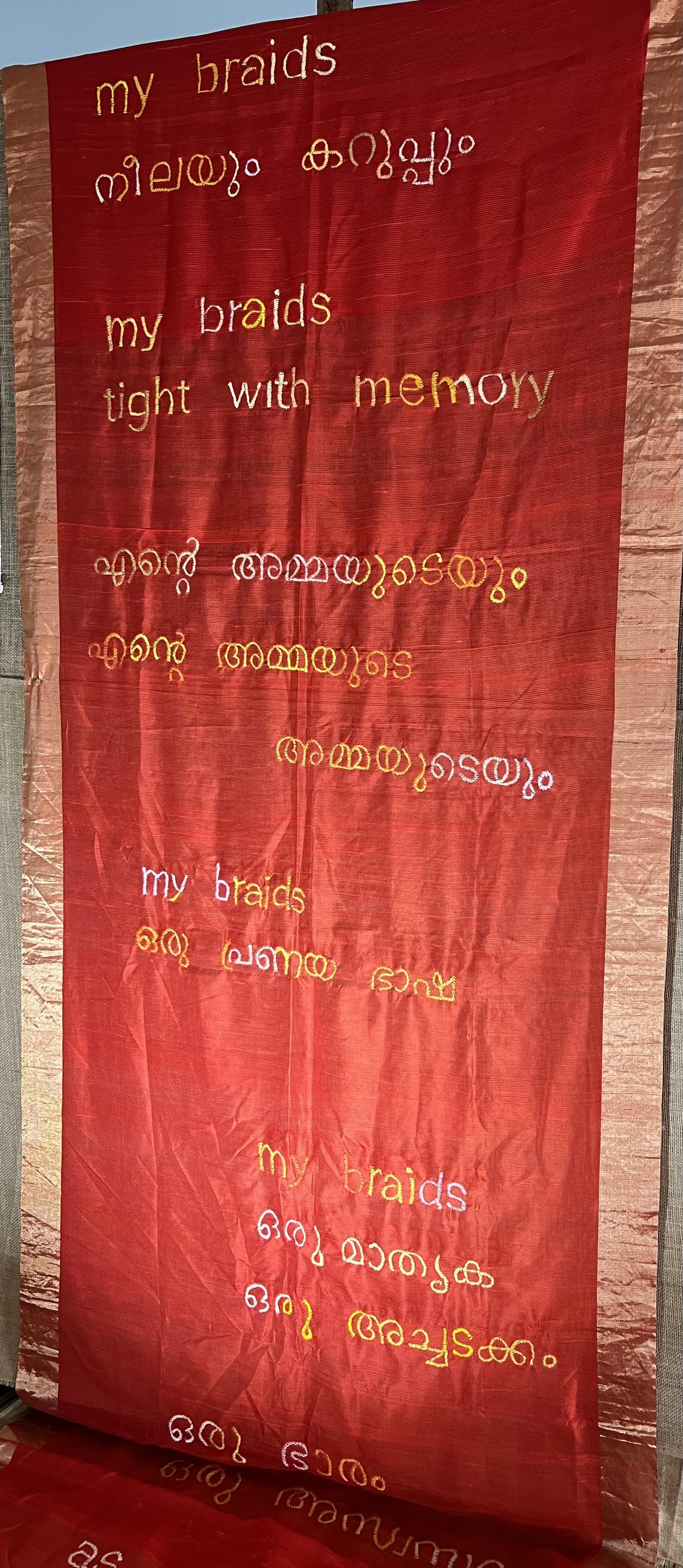 Silent Varnam evokes nostalgia with a display of objects of a lost lifestyle. A hand sewing machine, a brass tiffin carrier, table fan, glass bangles and an old wedding sari cascading down a portrait of a woman, made by portrait artist Suresh Kumar, feature in it. In The Name of Freedom celebrates the women freedom fighters in a work by calligraphist Narayan Bhattathiri. The kantha running stitch is highlighted in the work. Waste textiles upcycled into rag dolls pay a tribute to the nine strong women.  Canada based interdisciplinary artist Parvathy Nair offers a striking work of hand embroidered bi-lingual poetry — Malayalam and English — as she juxtaposes ancestral knowledge, regionalization, mother's and grandmotherly love on a deep red sari. A painting titled, Heirloom-Her loom — Hair loom projects the struggles of an artist, a weaver escaping from the confines of a loom or a loom consuming her eventually.
Mother's Wrap — Embraced in Love, and a highlight of the show, is a heartwarming installation of an arrangement of saris, shared by mothers of celebrities like Shashi Tharoor, Adoor Gopalakrishnan, Sanju Samson, Keerthi Suresh and many others. "These saris reverberate with stories of motherhood and anecdotes from childhood; these are precious memoirs," says Maithri.  
Dhwani wraps herself as a globe force, showcases in little frames the exquisite artistry of traditional Indian block print and weave: ajrakh, sambalpur, Ikkat, bandhini, Khadi and celebrates the artisan. Rang sarangi is a tribute to the patterns on Indian textiles, the booti, checks and strips. Kerala Canvas Project is an ode to the kasavu , on which are hand embroidered motifs of spices, the banana leaf and alphabets. The backdrop of the exhibits is decorated with objects associated with the theme like hand blocks, silk threads, coconut shell buttons, bindis and shuttles.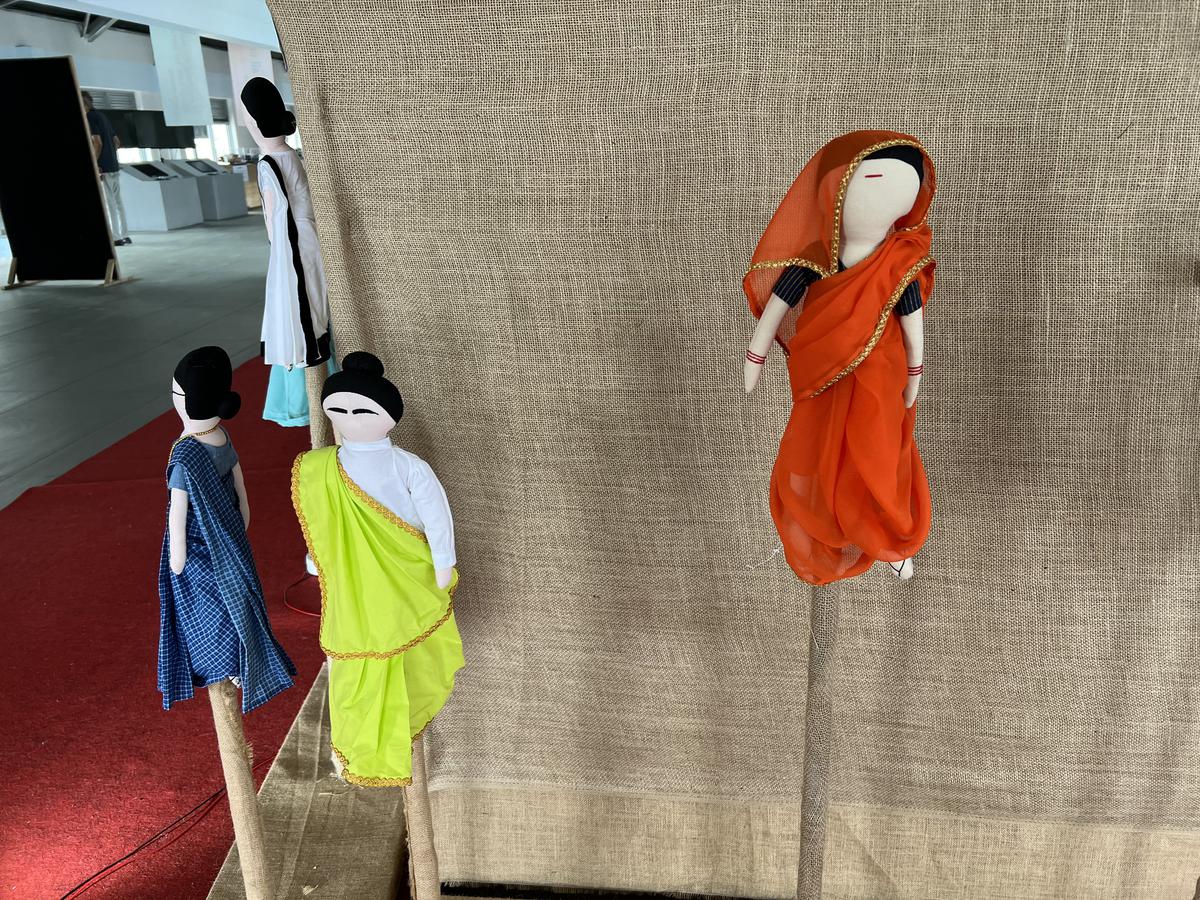 The show is intricate with a powerful main flow around textiles and feminism but it is in its small renderings that it stands out, like a darned sari that talks about the very fine art of "rafoogiri" or darning. Maithri has interlinked the big with the small, the major with the minor, shades and nuances in an attractive and moving show.
The exhibition at Vypin Water Metro Terminal runs till April 10.
Tags :
entertainment
featured