Shilparamam gets ready for four-day Sankranti Sambaralu in Hyderabad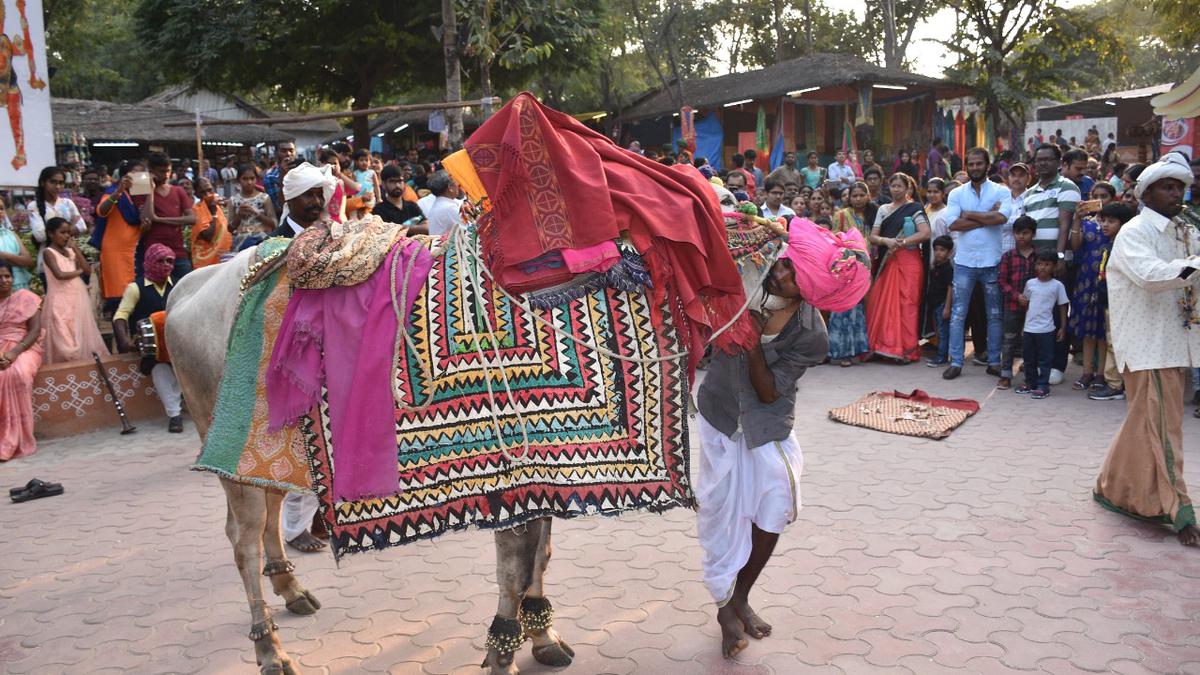 Come Sankranti and the twin cities wear a deserted look with almost everyone heading to their hometowns in Telangana and Andhra Pradesh for the four-day harvest festival. City dwellers who remain behind are homesick, yearning for the rural ambience they had grown up in. Shilparamam in Hyderabad steps in to offer festive cheer with Sankranti Sambaralu, spread over four days, beginning from January 13.
Groups of friends and families with children visit Shilparamam to soak in the traditional ambience and enjoy the festivities. The arts and crafts centre acquires a traditional atmosphere with rangavalli (colourful patterns drawn using rice flour called  muggu) drawn on the cow dung-smeared floor. The gobbemma (cow dung ball) decorated with turmeric, vermilion and flowers is at the centre of the rangavalli. Inside, gangireddu (decorated bulls) and folk dancers entertain visitors.
Traditional festivities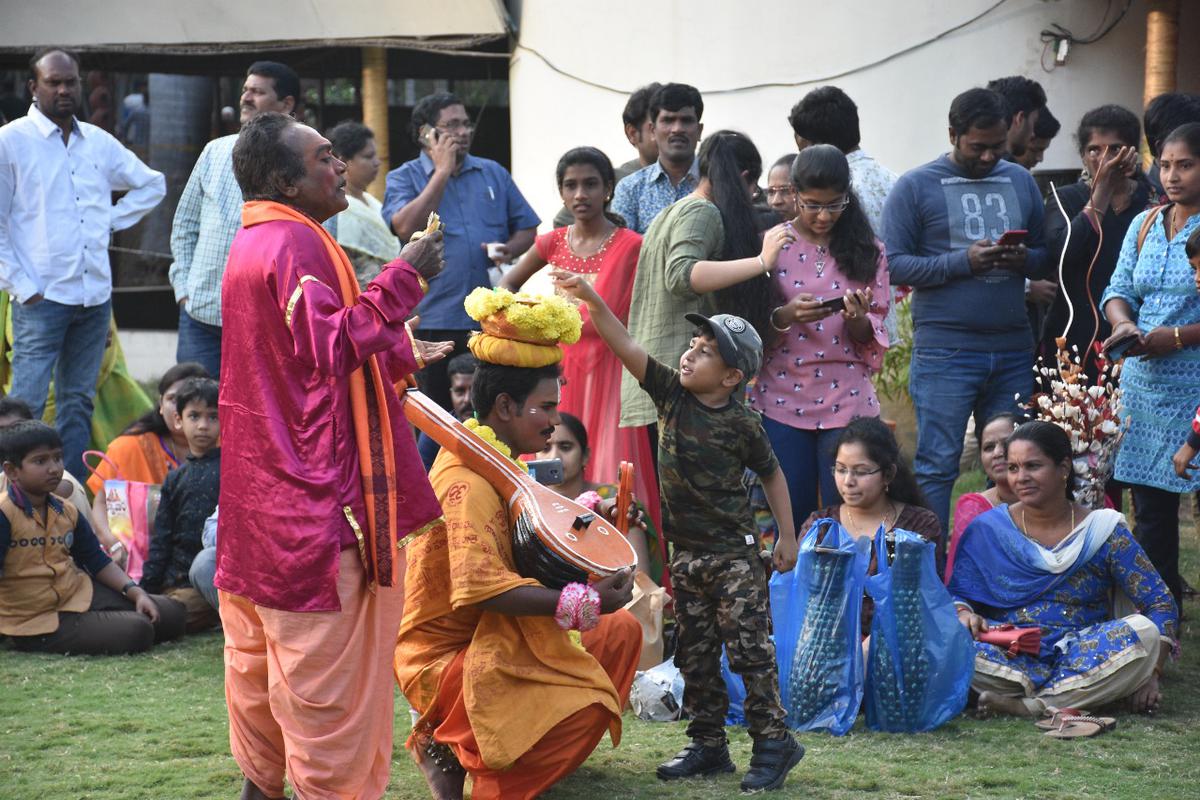 For over two decades, the Vibhuti Brothers group hailing from Rajahmundry has associated with Shilparamam for Sankranti festivities. While a team of 11 artists perform at the Madhapur branch this year, eight artists present their acts at the Uppal Shilparamam.
The traditional artists perform pagati veshalu (a folk form of role-playing) bringing a glimpse of rural celebrations to the city. " Haridasulu, budabukkalu, jangama devara, pittala dora, guru shishyula samvaadam, komma dasari, golla boyudu, all go around the villages during Sankranti, entertaining people, narrating folk and mythological tales, take gifts and bless the householders," informs Vibhuti Lovaraju. His (late) father Vibhuti Bhavani Lingam had been a regular performer at Shilparamam since its inception in 1998.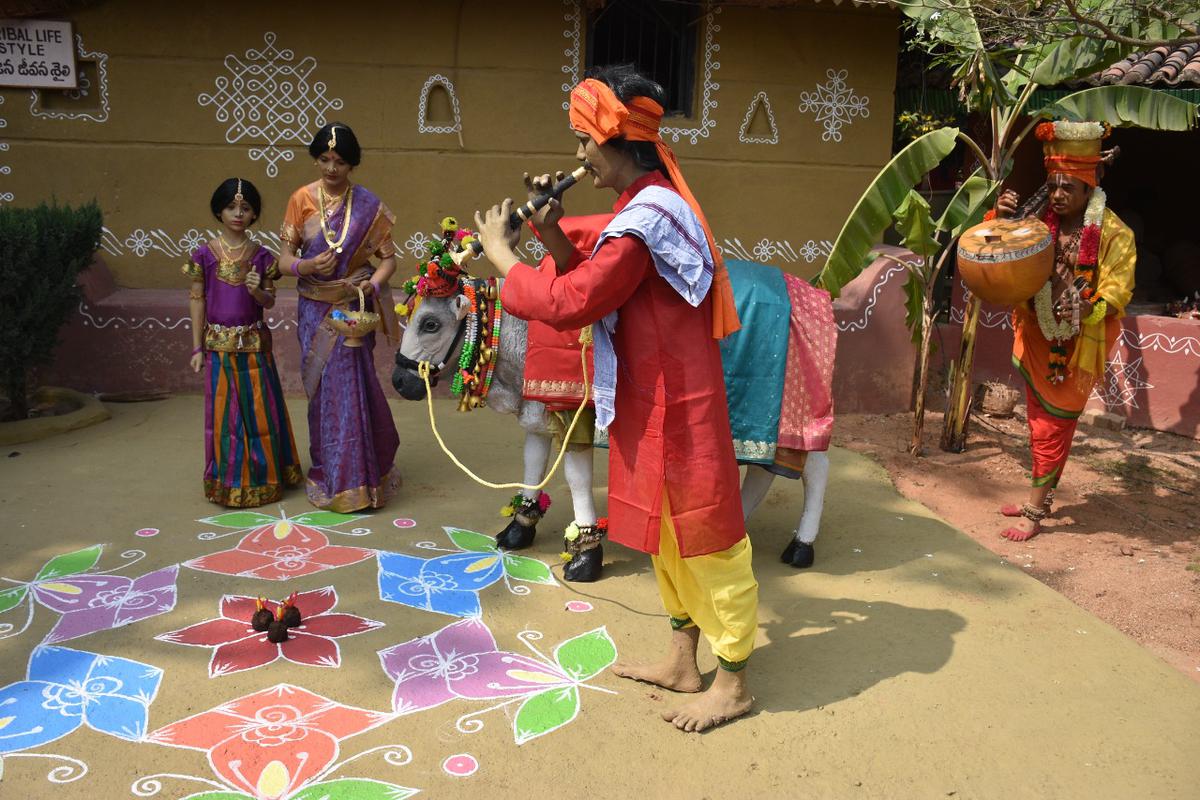 Gangireddula aata or bull play is another added attraction here. Around 15 bulls are brought here from Hyderabad, Nalgonda, Mahbubnagar and Kurnool. Narasimha Avula from Keesaragutta is a gangireddulavaaru who makes the decorated bulls perform feats to the tunes of music. Narasimha, who has been coming to Shilparamam during Sankranti for the past 15 years says, "The decorated bulls move their feet in rhythm, nod, bow their head and even stand on the master's chest. People enjoy these feats during Sankranti but on other days no one bothers us." 
The custom of pouring bhogi pallu (a mix of berries, coins and flowers ) on children is also performed here on Bhogi day, January 14. "Our focus is to celebrate every festival in an authentic way so that the young generation knows about our customs and culture," says Shilparamam special officer, Kishan Rao.
Sankranti Sambaralu is so popular that the crafts village attracts around 25,000 people on Sankranti day. Children running around in new clothes and families taking selfies is a common scene, says Kishan Rao. "The buoyant atmosphere cheers everyone and one feels connected to the roots."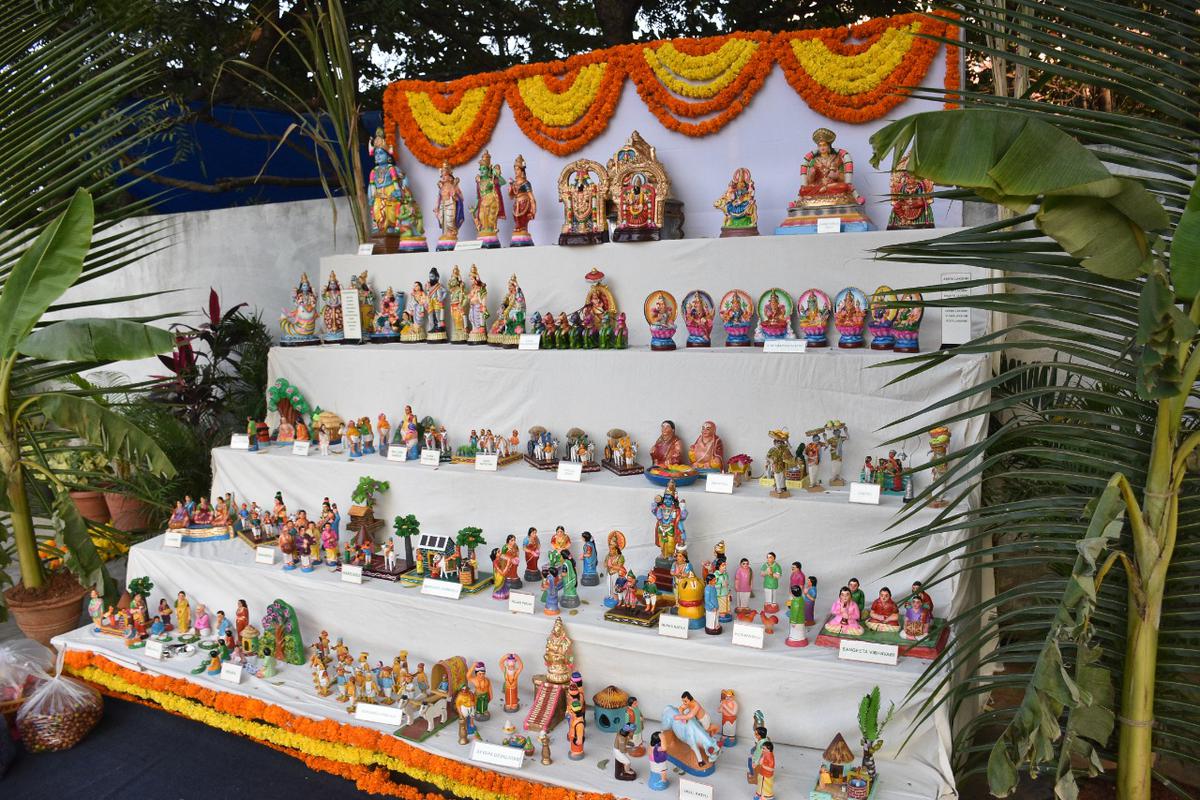 Apart from music and dance performances at the amphitheatre, bommala koluvu (traditional display of dolls narrating mythological stories) is another attraction.
With the ongoing National Handicrafts Fair at Shilparamam in Madhapur, the visitors can indulge in shopping too.
Tags :
featured
Lifestyle