'Operation Fortune: Ruse de guerre' review: Guy Ritchie's movie is hectic fun from start to finish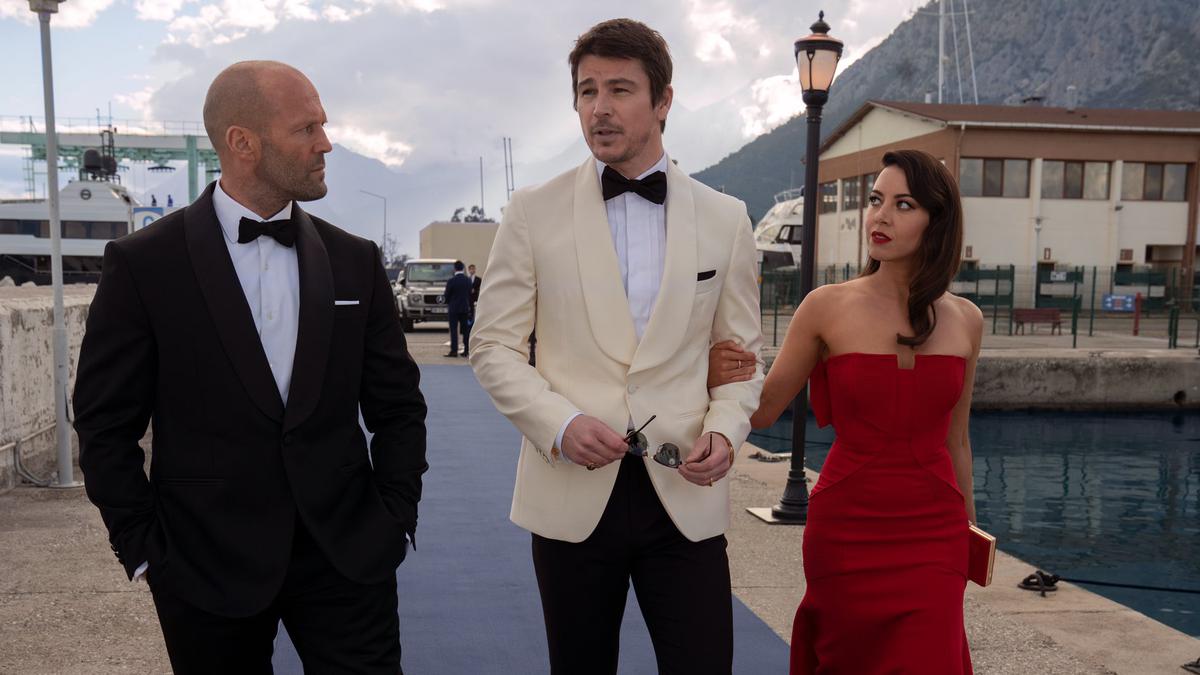 Guy Ritchie's fifth collaboration with Jason Statham is hectic fun from start to finish. Throw in super turns from Aubrey Plaza and Hugh Grant, and entertainment is guaranteed. Operation Fortune: Ruse de guerre hits the ground running, with a dizzying opening sequence where a man, possibly a civil servant, Nathan (Cary Elwes), walks down sunlit corridors and his shoes hitting the floor is intercut in tune with a heist taking place.
Operation Fortune: Ruse de guerre
Director: Guy Ritchie
Cast: Jason Statham, Aubrey Plaza, Josh Hartnett, Cary Elwes, Bugzy Malone, Hugh Grant
Runtime: 114 minutes
Storyline: A team of special operatives use the help of a film star to stop a billionaire arms dealer's dastardly deeds
We quickly learn that something vital was stolen and shady arms dealer Greg Simmonds (Hugh Grant) is facilitating its sale to nasty people. Nathan, who is a defence contractor, is tasked with retrieving the stolen item. He gets in touch with super spy Orson Fortune (Jason Statham) to do the job. Top operatives Sarah (Aubrey Plaza) and J.J. (Bugzy Malone) are variously Fortune's foot soldiers, tech and vehicular support, honey trap, and muscle.
There is also a rival contractor, Simmonds' scary staff and general bad guys, and rich philanthropists (not mutually exclusive) all out to get that one piece of stolen weapons tech that could change modern warfare forever.
Nathan hires Fortune for his unorthodox methods (he is apparently the bicycle courier instead of a tank) despite his expensive tastes that require a private jet for his claustrophobia, expensive wines to allay his fear of flying, and posh vacations to rehab from strenuous assignments. Fortune's lure for Simmonds is Danny Francesco (Josh Hartnett), Simmonds' favourite movie star.
As the action moves from Cannes to Turkey and Qatar, Fortune and his merry band have to ensure Danny's cover is not blown while also tracking the scary weapon. Operation Fortune: Ruse de guerre revels in the irreverence that one has come to expect from a Guy Ritchie movie.
The action sizzles as do the one-liners. Grant has a great deal of fun playing the billionaire bad boy complete with twinkly eyes and a naughty accent. His and Hartnett's man crushes for each other are super cool as are all the acting in-jokes. Plaza in her lovely red dress (and other captivating costumes) is enchanting as are the snarky comments falling out of her carmine lips.
It looks like all the joy that was leached out of James Bond has percolated into Ritchie's take on spycraft. While there is a distinct lack of tension with everyone having a jolly whiskey-soda-type good time, Operation Fortune: Ruse de guerre with its zingy wit and scorching action comes with a solid assurance of a glorious time at the movies.
 Operation Fortune: Ruse de guerre is currently running in theatres
Tags :
entertainment
featured