Mambalam Sisters' singing proved their experience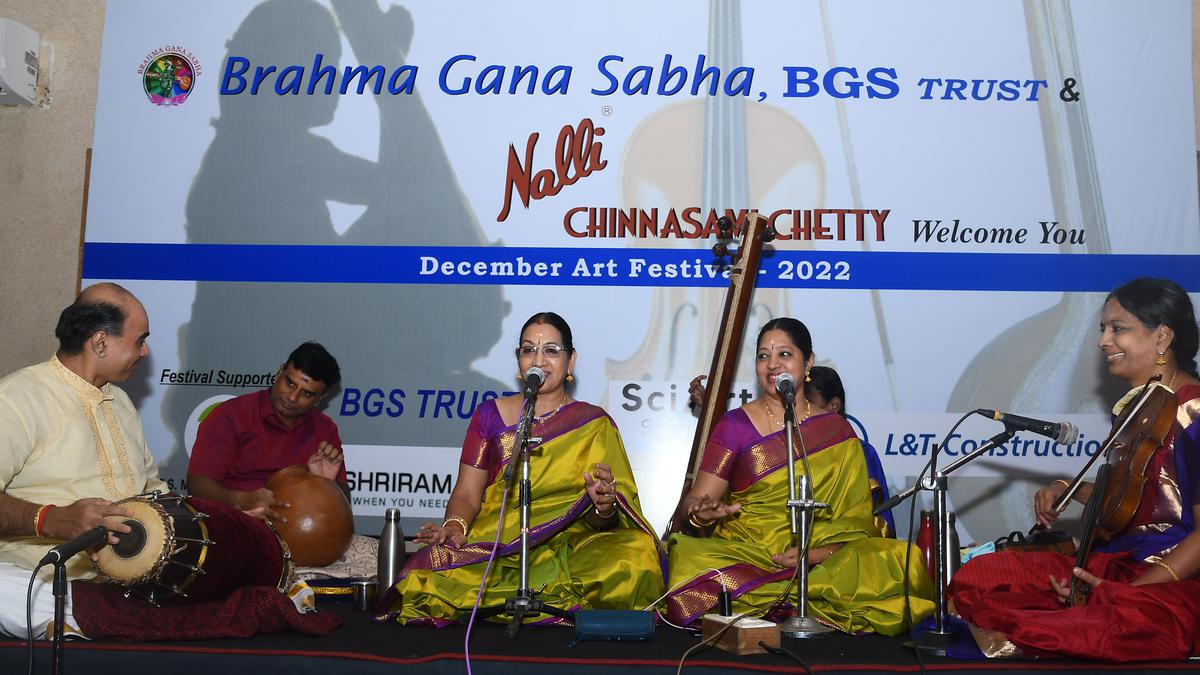 An aesthetic and elaborate Purvikalyani was the highlight of Mambalam Sisters Vijayalakshmi and Chitra's vocal concert. The majestic raga emerged with all its embellishments in Vijayalakshmi's voice. She systematically advanced the raga treatise with great care. No segment was devoid of interesting phrases and karvais. The choice here was also a celebrated and well known composition — Poochi Srinivasa Iyengar's 'Parama pavana rama', with its captivating chittaswaram. As expected, the niraval and swaras were exercised on the line 'Kanakambaradhara'. The swara sallies between the siblings — Chitra on the vocals and Hemalatha on the violin — progressed interestingly.
Earlier, it was Chitra's turn to elucidate raga Surutti. A melodic raga that is rarely taken up for detailed exposition in concerts, it moved in a well-structured manner in the slightly husky voice of Chitra. Being a Tuesday, Dikshitar's vara kriti 'Angarakam ashrayamyaham' was rendered with significant piety. Nevertheless, the raga image got further extended during the niraval at 'Deenarakshakam pujita' and the swara segment followed, with several rounds landing on 'panchamam' before the conclusion.
Tyagaraja's Kokilavarali raga kriti 'Samukhana nilva galguna' is said to have been popularised by vidwan Musiri Subramania Iyer.
Raga essays and niraval as well as the swaraprastara proved the sisters' experience. They knew well how and to what extent each segment should be elaborated with an eye on the time factor. The brief swarakalpana appended to the opening number 'Gowri manohara' (Papanasam Sivan) in raga Gowri Manohari was another proof of this.
During the raga alapana, niraval and swara segments, violinist Hemalatha responded competently.
The same could be said about the percussion duo Nellai A. Balaji on the mridangam and N. Rajaram on the kanjira and the ghatam, respectively. Their tani avartanam was crisp and showcased a delectable exchange of rhythmic patterns.
The concert's other songs were 'Kanjadalayadakshi' in Kamala Manohari by Dikshitar, 'Janaki manoharam bhaje' in Maund by Mysore Vasudevachar and and a thillana in raga Durga by the sisters' guru B.V. Raman.
Tags :
entertainment
featured