Kavi Kunjara Bharati: A multi-genre composer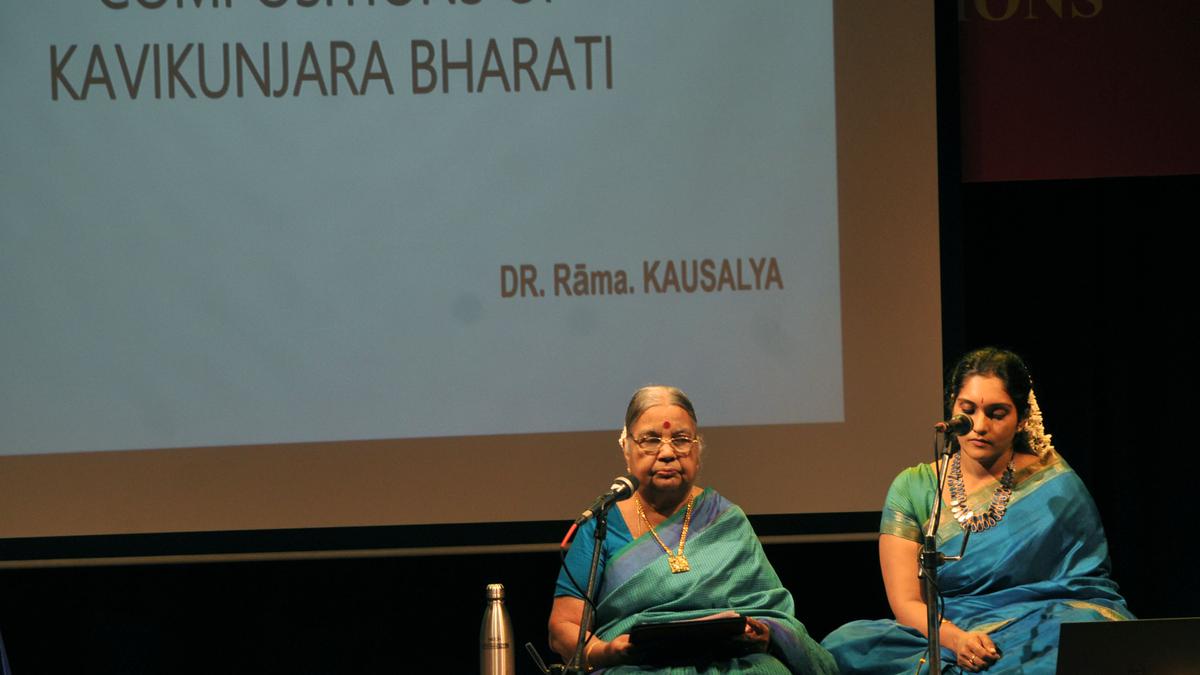 Rama Kausalya presented a lec-dem at The Music Academy on the life and compositions of Kavi Kunjara Bharati (1810-1896), who was named Koteeswara Bharati, after his grandfather. Bharati was the family name.
KKB began composing songs when he was 12. His knowledge soon brought him to the notice of the Sivagangai samasthanam, where he became the asthana vidwan and was given the title Kavi Kunjaram by Gowri Vallabha Maharaja. He was also appointed asthana vidwan of Ramanathapuram samasthanam by Muthuramalinga Sethupathi, thus having the rare honour of being vidwan at two courts simultaneously. He composed in many poetic and musical genres. The earliest publication of his compositions was by Pushparatha Chettiar in 1886. This book has a total of 37 compositions, which include a Vinayaka stuthi and 36 padams.
In 1915, KKB's grandson Koteeswara Iyer published a collection of keertanais, under the title Perinba Keerthanaiagal. The book was published by the Scottish Press, Madras. KKB composed kritis in praise of the deities of the temples in Kodumalur, Manamadurai, Kanadukathan, Kandanur, Madurai, Sakkottai, Thribhuvanam, Thirupperundurai, Padam Piriyal koil, and Nainar koil. KKB's Azhagar Kuravanji, which has Kallazhagar as hero, was first published in 1916, by Koteeswara Iyer, and later in 1963 by his son Nagamani, with S. Ramanathan helping out with the notations. Wherever the original notations were unavailable, only the sahitya is given. With Professor Sambamurthy's guidance, the kuravanji was presented as a dance drama in Tamizh Isai Sangam in 1960, and as a musical drama on All India Radio, in 1961.
Kausalya found a picture of a Vanoli (AIR's journal) featuring those who sang for this presentation — Nagamani, Sirkazhi Govindarajan, Vairamangalam Lakshminarayanan, A.P. Komala and G. Vaidehi. When Ponnusami Thevar, brother of the rajah of Ramanathapuram samasthanam, requested him to present Skanda Purana as kritis, KKB retired to his village for five years, for quiet meditation, so that he could capture the spirit of the original. His musical version of Skanda Purana has 240 kritis, and 300 viruthams, and was published by Koteeswara Iyer in 1914. Ragas Mukhari and Ahiri are used when Paduma Komalai, Soorapadman's wife, loses her son and husband. The use of a joyful raga like Anandabhairavi for Veerabahu's lament, shows the composer's mastery over the handling of ragas. KKB had a special fondness for Muruga. When the rains failed, when his buffalo fell ill and when his land was illegally occupied, his prayerful songs were in praise of Muruga, as were his wedding songs.
Madhuvanti Badri sang some of KKB's compositions, which she learnt from vocalist Dr. R. Ganesh and his father Radhakrishnan, and from 83-year-old Padmavathi, all of whom belong to KKB's family, and also from Bhushani Kalyanaraman. Madhuvanti sang 'Siddhi vinayakane' (Nattai) in praise of Vinayaka in Madurai Meenakshi temple, a kriti in Manirangu, a Punnagavarali piece from Meenakshi Adaikkalamalai, Ramayana samkshepa kriti – 'Rama bhajanai' (Bhairavi), a couple of wedding songs, a kummi and a Skanda Purana kriti in Thodi.
Tags :
entertainment
featured