'White Noise' movie review: Noah Baumbach's absurdist drama is eerily topical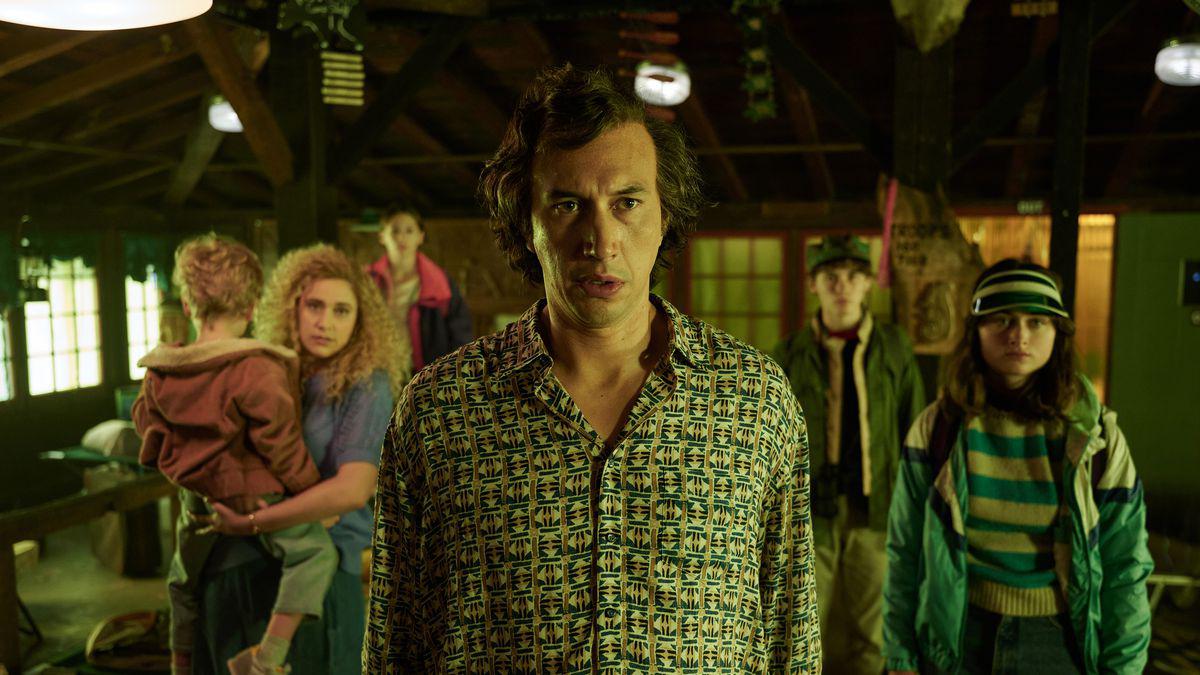 Don DeLillo's 1985 postmodern breakout novel gets the Noah Baumbach treatment in White Noise. The long-considered un-filmable absurdist black satire comes alive in Adam Driver's virtuoso performance, who breathes life into his character, Professor Jack Gladney. He is the paunchy husband to his fourth wife, Babette (Greta Gerwig) and slightly ineffectual father to his blended family.
White Noise 
Director: Noah Baumbach
Cast: Adam Driver, Greta Gerwig, Don Cheadle
Story line: An academic discovers truths about himself and his family after a catastrophe
Run time: 136 minutes
Jack has two children from previous marriages, Heinrich (Sam Nivola) and Steffie (May Nivola), Denise (Raffey Cassidy) is Babette's daughter from an earlier marriage, and the couple have a son together, Wilder.
Jack has pioneered the field of Hitler studies at the College-on-the-Hill much to chagrin and envy of his colleague and pop culture maven, Murray (Don Cheadle). One of Jack's guilty secrets is that he does not know German and is hoping to learn the basics before his big speech at a conference later in the year.
Both Jack and Babette are terrified of death and have long conversations on who of the two will die first. Precocious Denise is worried her mum is addicted to unlisted little white pills. Heinrich keeps himself occupied with various science theories, while Steffie worries about infinitely mundane yet earth-moving facts.
Like the novel, Baumbach, who has also written the screenplay, highlights the themes of misinformation by media ("family is the cradle of misinformation"), consumerism, the irrelevance of academia and pointlessness of bureaucratic processes. Also following the novel's structure, White Noise is divided into sections including Waves and Radiation, introducing the characters and The Airborne Toxic Event, which propels and heightens Jack and Babette's fear of death.
Murray's field of study underlines the trivialisation of academia; the film opens with Murray's presentation on car crashes in American cinema, which he posits is a symbol of optimism. He also believes supermarkets recharge us spiritually. Murray wishes for a department dedicated to the study of Elvis Presley and asks for Jack's help to push his case forward, which results in a bizarre presentation by both the professors drawing uncanny parallels between Hitler and the King.
A chemical spill causes a panicked mass evacuation and also a chance to be smothered in Himalayan lengths of red tape. As Jack tells the SIMUVAC (simulated evacuation) officer, "You saw a chance to use the real event to rehearse the simulation." That he makes the statement in all seriousness underlines the ridiculousness of the situation.
Though set in the '80s, White Noise is eerily topical. It is the kind of film that makes you laugh while stifling a jolt of fear. Beautifully-shot, Baumbach brings a different kind of '80s to life as there is a dark vein of soullessness running through the bright pops of colour and the stacked supermarket shelves.
The 'Jai Ho' style song and dance at the supermarket for the end credits seals the deal on a fascinating, provocative time at the cinema.
White Noise is currently streaming on Netflix
Tags :
entertainment
featured