Telagana CM to boycott NITI Aayog meet on Aug 7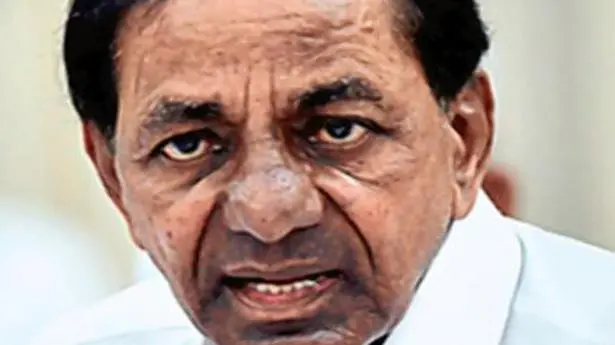 NITI Aayog, which replaced the Planning Commission, has failed in all aspects and has not lived up to the expectations, Chandrashekar Rao alleged
.
Hyderabad Telangana Chief Minister K Chandrashekar Rao has said he is going to boycott the Niti Aayog's meet scheduled for August 7 in New Delhi.
"I am staying away from the meeting as a mark of protest against the present trend of the Central Government to discriminate against the States and not treating them as equal partners," he said.
He alleged that the Centre's actions go against the spirit of cooperative federalism enshrined in the Constitution.
Addressing a press conference here on Saturday, he said the NITI Aayog, which replaced the Planning Commission, has failed in all aspects and has not lived up to the expectations.
Prime Minister Narendra Modi will address the seventh Governing Council of NITI Aayog in New Delhi on August 7.
On the Planning Commission, the Chief Minister alleged that the BJP Government had promised to achieve cooperative federalism through NITI Aayog as it did away with it. "But never implemented it in letter and spirit," he said.
"At the time of launching NITI Aayog, the Prime Minister Narendra Modi promised that NITI Aayog would make the Chief Ministers of all States as its members and ensure a team work. But nothing substantial has happened," he alleged.
"It is unfortunate that it is just confined itself to praise the Government and organise a few meetings," he said.
Stating that the Planning Commission had helped the States by guiding them in developmental programmes, he said NITI Aayog had failed to honour its own recommendations.
Open Letter

In an open letter to the Prime Minister, the Telangana Chief Minister said that the NITI Aayog had recommended to the Centre to release Rs ₹24,000 crore grant for Mission Kakatiya (a tank restoration programme) and Mission Bhagiratha (a scheme that seeks to provide drinking water to every household in the State).
Click here to read Telangana CM's Open Letter to the Prime Minister
The Government had ignored the recommendation and decided not to release a single rupee for the programmes.
"After seven years of NITI Aayog's functioning, the Centre's actions show that the initiatives have gone astray as States are not included as equal partners in the national development agenda," he said.
"The States have not been coopted in the preparation of the agenda of NITI Aayog meetings. When the Planning Commission was in vogue, there used to be detailed interactive discussions with the States on their Annual Plans. Now, there is neither a plan nor any involvement of States," he observed.
"The rigmarole of NITI Aayog meetings leave little scope for a meaningful dialogue as the Chief Ministers are given hardly a few minutes to speak and express their views," he pointed out.
"Cooperative Federalism, the tenet enshrined in the Constitution is deliberately disregarded, which is evident from the Centre's unilateral enactment of legislations in agriculture and power sectors," he said.
Published on

August 06, 2022

Tags :
featured
news