Brazilian President Jair Bolsonaro tests negative for coronavirus COVID-19 for first time since July 7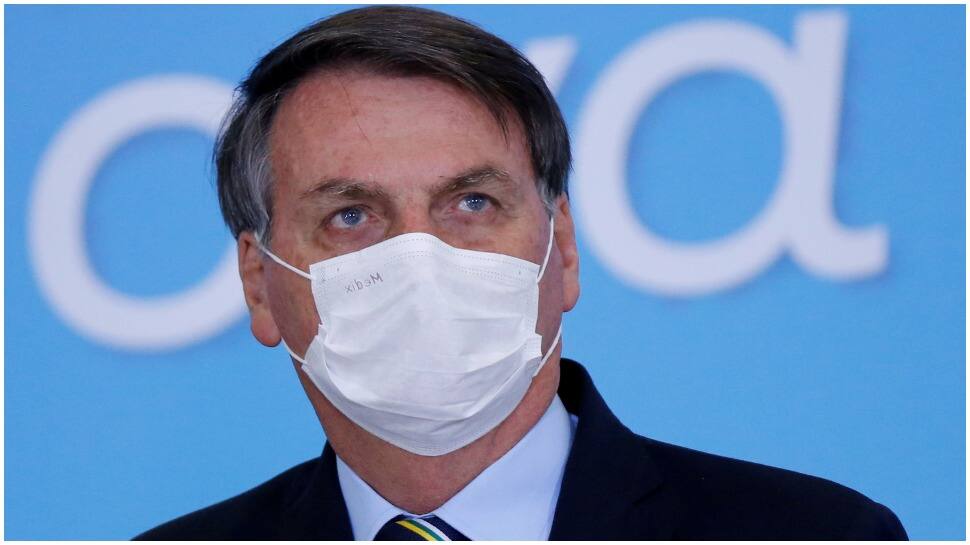 Brasilia: Brazilian President Jair Bolsonaro on Saturday (July 25, 2020) said that he has tested negative for coronavirus, which is reportedly the first time since he contracted the virus on July 7.
"RT-PCR for Sars-Cov 2: negative," the 65-year old tweeted in Brazilian.
– RT-PCR para Sars-Cov 2: negativo.
– BOM DIA A TODOS. pic.twitter.com/CkdV59yGXP

— Jair M. Bolsonaro (@jairbolsonaro) July 25, 2020
Earlier on Wednesday, he had tested positive for the third time.
President Jair Bolsonaro had first tested COVID-19 positive on July 7.
Before contracting the virus, he was seen without a face mask on various occasions and was also quoted saying that his history as an athlete would protect him from the virus and that it would be nothing more than a "little flu" were he to contract it.
Bolsonaro had tested negative three times in March after meeting with the US President Donald Trump in Florida. Multiple members of his delegation to the US had later contracted the virus.
Meanwhile, Brazil has recorded more than 22.27 lakh coronavirus infections, along with 82,771 deaths to date. 
(function(d, s, id) {
var js, fjs = d.getElementsByTagName(s)[0];
if (d.getElementById(id)) return;
js = d.createElement(s); js.id = id;
js.src = "https://connect.facebook.net/en_US/sdk.js#xfbml=1&version=v2.9";
fjs.parentNode.insertBefore(js, fjs);
}(document, 'script', 'facebook-jssdk'));
(function ($) {
/*Drupal.behaviors.pagerload = {
attach: function (context, settings) {*/
$(document).ready(function(){
$(".sidebar").theiaStickySidebar();
/*$.get( "/hindi/zmapp/mobileapi/sections.php?sectionid=17,18,19,23,21,22,25,20", function( data ) {
$( "#sub-menu" ).html( data );
alert( "Load was performed." );
});*/
var nextpath=""; var pg = 1;
var nextload= true;
var string = ";var ice = 0;
var playerFly;
var load = '
';
var cat = "?cat=120186";
//$(".main-rhs2298285″).theiaStickySidebar();
var instagram_script=document.createElement('script');
instagram_script.defer="defer";
instagram_script.async="async";
instagram_script.src="https://platform.instagram.com/en_US/embeds.js";
document.head.appendChild(instagram_script);
/*************************************/
/*$(window).scroll(function(){
var last = $('div.listing').filter('div:last');
var lastHeight = last.offset().top ;
if(lastHeight + last.height() = 360) {
angle = 1;
}
angle += angle_increment;
}.bind(this),interval);
},
success: function(data){
nextload=false;
//console.log("success");
//console.log(data);
$.each(data['rows'], function(key,val){
//console.log("data found");
ice = 2;
if(val['id']!='2298285′){
string = '
';
$('div.listing').append(string);
}
});
},
error:function(xhr){
//console.log("Error");
//console.log("An error occured: " + xhr.status + " " + xhr.statusText);
nextload=false;
},
complete: function(){
$('div.listing').find(".loading-block").remove();;
pg +=1;
//console.log("mod" + ice%2);
nextpath="&page=" + pg;
//console.log("request complete" + nextpath);
cat = "?cat=120186";
//console.log(nextpath);
nextload=(ice%2==0)?true:false;
}
});
}
//lastoff = last.offset();
//console.log("**" + lastoff + "**");
});*/
var maindiv = false;
var dis = 0;
var fbcontainer="";
var fbid = ";
var fb_script=document.createElement('script');
fb_script.text= "(function(d, s, id) {var js, fjs = d.getElementsByTagName(s)[0];if (d.getElementById(id)) return;js = d.createElement(s); js.id = id;js.src="https://connect.facebook.net/en_GB/sdk.js#xfbml=1&version=v2.9″;fjs.parentNode.insertBefore(js, fjs);}(document, 'script', 'facebook-jssdk'));";
var fmain = $(".sr2298285");
//alert(x+ "-" + url);
var fdiv = '
';
//console.log(fdiv);
//$(fb_script).appendTo(fmain);
$(fdiv).appendTo(fmain);
function fillElementWithAd($el, slotCode, size, targeting){
if (typeof targeting === 'undefined') {
targeting = {};
} else if ( Object.prototype.toString.call( targeting ) !== '[object Object]' ) {
targeting = {};
}
var elId = $el.attr('id');
//console.log("elId:" + elId);
googletag.cmd.push(function(){
var slot = googletag.defineSlot(slotCode, size, elId);
for (var t in targeting){
slot.setTargeting(t, targeting[t]);
}
slot.addService(googletag.pubads());
googletag.display(elId);
//googletag.pubads().refresh([slot]);
});
}
$(document).delegate("button[id^='mf']", "click", function(){
fbcontainer="";
fbid = '#' + $(this).attr('id');
var sr = fbid.replace("#mf", ".sr");
$(fbid).parent().children(sr).toggle();
fbcontainer = $(fbid).parent().children(sr).children(".fb-comments").attr("id");
});
function onPlayerStateChange(event){
var ing, fid;
//console.log(event + "—player");
$('iframe[id*="video-"]').each(function(){
_v = $(this).attr('id');
//console.log("_v: " + _v);
if(_v != event){
//console.log("condition match");
ing = new YT.get(_v);
if(ing.getPlayerState()=='1′){
ing.pauseVideo();
}
}
});
$('div[id*="video-"]').each(function(){
_v = $(this).attr('id');
//console.log("_v: " + _v + " event: " + event);
if(_v != event){
//jwplayer(_v).play(false);
}
});
}
function onYouTubePlay(vid, code, playDiv,vx, pvid){
if (typeof(YT) == 'undefined' || typeof(YT.Player) == 'undefined') {
var tag = document.createElement('script');
tag.src = "https://www.youtube.com/iframe_api";
var firstScriptTag = document.getElementsByTagName('script')[0];
firstScriptTag.parentNode.insertBefore(tag, firstScriptTag);
window.onYouTubePlayerAPIReady = function() {
onYouTubePlayer(vid, code, playDiv,vx, pvid);
};
}else{onYouTubePlayer(vid, code, playDiv,vx, pvid);}
}
function onYouTubePlayer(vid, code, playDiv,vx, pvid){
//console.log(playDiv + "Get Youtue " + vid);
//$("#"+vid).find(".playvideo-"+ vx).hide();
var player = new YT.Player(playDiv , {
height: '450',
width: '100%',
videoId:code,
playerVars: {
'autoplay': 1,
'showinfo': 1,
'controls': 1
},
events: {
'onStateChange': function(event){
onPlayerStateChange(event.target.a.id);
}
}
});
$("#video-"+vid).show();
}
function anvatoPlayerAPIReady(vid, code, playDiv,vx, pvid,vurl){
AnvatoPlayer(playDiv).init({
"url": code,
"title1″:"",
"autoplay":true,
"share":false,
"pauseOnClick":true,
"expectPreroll":true,
"width":"100%",
"height":"100%",
"poster":"",
"description":"",
"plugins":{
"googleAnalytics":{
"trackingId":"UA-2069755-1″,
"events":{
"PLAYING_START":{
"alias" : "play – zee english video",
"category" : "zee english video",
"label" : "https://zeenews.india.com" + vurl,
"metric" : "1"
},
"BUFFER_START":{
"alias" : "buffer – zee english video",
"category" : "zee english video",
"label" : "https://zeenews.india.com" + vurl,
"metric" : "2"
},
"AD_BREAK_STARTED":{
"alias" : "break – zee english video",
"category" : "zee english video",
"label" : "https://zeenews.india.com" + vurl,
"metric" : "3"
},
"VIDEO_COMPLETED":{
"alias" : "complete – zee english video",
"category" : "zee english video",
"label" : "https://zeenews.india.com" + vurl,
"metric" : "4"
}
}
},
"dfp":{
"clientSide":{
"adTagUrl":"https://pubads.g.doubleclick.net/gampad/ads?sz=640×480&iu=/11440465/Zeenews_English_Video/Zeenews_English_Preroll&impl=s&gdfp_req=1&env=vp&output=vast&unviewed_position_start=1&url=https://zeenews.india.com"+vurl+"&description_url=https://zeenews.india.com"+vurl+"&correlator=[timestamp]",
}
}
}
});
}
$(document).delegate("div[id^='play']", "click", function(){
//console.log($(this).attr("id"));
//console.log($(this).attr("video-source"));
//console.log($(this).attr("video-code"));
var isyoutube = $(this).attr("video-source");
var vurl = $(this).attr("video-path");
var vid = $(this).attr("id");
$(this).hide();
var pvid = $(this).attr("newsid");
var vx = $(this).attr("id").replace('play-',");
var vC = $(this).attr("video-code");
var playDiv = "video-" + vid + "-" + pvid;
if(isyoutube =='No'){
anvatoPlayerAPIReady(vid, vC, playDiv,vx, pvid, vurl);
}else{
onYouTubePlay(vid, vC, playDiv,vx, pvid);
}
});
$(document).delegate("div[id^='ptop']", "click", function(){
var vid = $(this).attr("id").replace('ptop',");
$(this).hide();
var pvid = $(this).attr("newsid");
var vurl = $(this).attr("video-path");
//console.log($(this).attr("id") + "–" + vid);
//console.log($(this).parent().children().find('#play-'+vid).attr("video-source"));
//console.log($(this).parent().children().find('#play-'+vid).attr("video-code"));
var isyoutube = $(this).parent().children().find('#play-'+vid).attr("video-source");
var vC = $(this).parent().children().find('#play-'+vid).attr("video-code");
var playDiv = "mvideo-play-" + vid + "-" + pvid;
if(isyoutube =='No'){
//console.log(jwplayer($(this).attr("id")).getState());
anvatoPlayerAPIReady($(this).attr("id"), vC, playDiv, vid, pvid, vurl);
}else{
onYouTubePlay($(this).attr("id"), vC, playDiv, vid, pvid);
}
});
var nxti = 3;
var ci = 1;
var nxti_1 = 6;
var nxti_2 = 9;
var nxti_3 = 12;
//console.log("totalPCount: " + $("#star2298285 > div.field-name-body > div.field-items > div.field-item").children('p').length);
var pl = $("#star2298285 > div.field-name-body > div.field-items > div.field-item").children('p').length;
var adcount = 0;
var adcode="/11440465/Zeenews_English_Web/Zeenews_English_AS_Inarticle_1_300x250″;
if(pl>3){
$("#star2298285 > div.field-name-body > div.field-items > div.field-item").children('p').each(function(i, n){
ci = parseInt(i) + 1; t=this;
var htm = $(this).html();
d = $("
");
if((i+1)%3==0 && (i+1)>2 && $(this).html().length>20 && ci<pl && adcount<3){
if(adcount<2){
d.insertAfter(t);fillElementWithAd(d, adcode, [300, 250], {});
adcode="/11440465/Zeenews_English_Web/Zeenews_English_AS_Inarticle_2_300x250";
}else if(adcount == 2){
$('
').insertAfter(t);
}
adcount++;
}else if(adcount>=3){
return false;
}
});
}
if($.autopager==false){
var use_ajax = false;
/*var disqus_shortname="zeehindi";
var disqus_identifier; //made of post id and guid
var disqus_url; //post permalink
function loadDisqus(source, identifier, url, nid) {
if (window.DISQUS) {
//alert("if");
jQuery('
').insertAfter(source);
jQuery('#disqus_thread').insertAfter(source); //append the HTML after the link
//if Disqus exists, call it's reset method with new parameters
DISQUS.reset({
reload: true,
config: function () {
this.page.identifier = identifier;
this.page.url = url;
}
});
}else{
jQuery('
').insertAfter(source);
disqus_identifier = identifier; //set the identifier argument
disqus_url = url; //set the permalink argument
//append the Disqus embed script to HTML
var dsq = document.createElement('script'); dsq.type="text/javascript"; dsq.async = true;
dsq.src="http://" + disqus_shortname + '.disqus.com/embed.js';
jQuery('head').append(dsq);
}
};*/
/*$('.disqusOn').live( "click", notify );
function notify() {
identifier = $(this).attr('id');
dUrl = $(this).attr('disqus-url');
source = $(this).parent();
loadDisqus(jQuery(this), identifier, dUrl);
}*/
function loadshare(curl){
history.replaceState(" ,", curl);
if(window.OBR){
window.OBR.extern.researchWidget();
}
//console.log("loadshare Call->" + curl);
//$('html head').find('title').text("main" + nxtTitle);
if(_up == false){
var cu_url = curl;
gtag('config', 'UA-2069755-1', {'page_path': cu_url });
if(window.COMSCORE){
window.COMSCORE.beacon({c1: "2", c2: "9254297"});
var e = Date.now();
$.ajax({
url: "/marathi/news/zscorecard.json?" + e,
success: function(e) {}
})
}
//console.log('ga:'+r);
/*(function () {
var ga = document.createElement('script'); ga.type="text/javascript"; ga.async = true;
ga.src = ('https:' == document.location.protocol ? 'https://' : 'http://') + 'stats.g.doubleclick.net/dc.js';
var s = document.getElementsByTagName('script')[0]; s.parentNode.insertBefore(ga, s);
})();*/
//console.log("loadshare Call");
}
}
if(use_ajax==false) {
//console.log('getting');
var view_selector="div.center-section"; // + settings.view_name; + '.view-display-id-' + settings.display;
var content_selector = view_selector; // + settings.content_selector;
var items_selector = content_selector + ' > div.rep-block'; // + settings.items_selector;
var pager_selector="div.next-story-block > div.view-zn-article-mc-all-2017 > div.view-content > div.clearfix"; // + settings.pager_selector;
var next_selector="div.next-story-block > div.view-zn-article-mc-all-2017 > div.view-content > div.clearfix > a:last"; // + settings.next_selector;
var auto_selector="div.tag-block";
var img_location = view_selector + ' > div.rep-block:last';
var img_path="
"; //settings.img_path;
//var img = '
' + img_path + '
';
var img = img_path;
//$(pager_selector).hide();
//alert($(next_selector).attr('href'));
var x = 0;
var url="";
var prevLoc = window.location.pathname;
var circle = "";
var myTimer = "";
var interval = 30;
var angle = 0;
var Inverval = "";
var angle_increment = 6;
var handle = $.autopager({
appendTo: content_selector,
content: items_selector,
runscroll: maindiv,
link: next_selector,
autoLoad: false,
page: 0,
start: function(){
$(img_location).after(img);
circle = $('.center-section').find('#green-halo');
myTimer = $('.center-section').find('#myTimer');
angle = 0;
Inverval = setInterval(function (){
$(circle).attr("stroke-dasharray", angle + ", 20000");
//myTimer.innerHTML = parseInt(angle/360*100) + '%';
if (angle >= 360) {
angle = 1;
}
angle += angle_increment;
}.bind(this),interval);
},
load: function(){
$('div.loading-block').remove();
clearInterval(Inverval);
//$('.repeat-block > .row > div.main-rhs2298285').find('div.rhs2298285:first').clone().appendTo('.repeat-block >.row > div.main-rhs' + x);
$('div.rep-block > div.main-rhs2298285 > div:first').clone().appendTo('div.rep-block > div.main-rhs' + x);
$('.center-section >.row:last').before('
Next Story
');
//$(".main-rhs" + x).theiaStickySidebar();
var fb_script=document.createElement('script');
fb_script.text= "(function(d, s, id) {var js, fjs = d.getElementsByTagName(s)[0];if (d.getElementById(id)) return;js = d.createElement(s); js.id = id;js.src="https://connect.facebook.net/en_GB/sdk.js#xfbml=1&version=v2.9″;fjs.parentNode.insertBefore(js, fjs);}(document, 'script', 'facebook-jssdk'));";
var fmain = $(".sr"+ x);
//alert(x+ "-" + url);
var fdiv = '
';
//$(fb_script).appendTo(fmain);
$(fdiv).appendTo(fmain);
FB.XFBML.parse();
var $dfpAd = $('.center-section').children().find("#ad-"+ x);
//console.log($dfpAd);
/*var pl = $("#star2298285 > div.field-name-body > div.field-items > div.field-item").children('p').length;
if(pl>3){
xp = "#star"+x;
$(xp +" > div.field-name-body > div.field-items > div.field-item").children('p').each(function(i, n){
ci= parseInt(i) + 1; t=this;
d = $("
ad Space
");
console.log("i: " + i + " ci:" + ci + " n:" + n);
console.log(this);
if(ci%3==0){d.insertAfter(t);fillElementWithAd(d, '/11440465/Zeenews_English_Web/Zeenews_English_AS_Inarticle_1_300x250', [300, 250], {});}
});
}*/
xp = "#star"+x;
var pl = $(xp + " > div.field-name-body > div.field-items > div.field-item").children('p').length;
if(pl>3){
$(xp + " > div.field-name-body > div.field-items > div.field-item").children('p').each(function(i, n){
ci= parseInt(i) + 1; t=this;
d = $("
");
//console.log("i: " + i + " ci:" + ci + " n:" + n);
//console.log(this);
if(i==2){d.insertAfter(t);fillElementWithAd(d, '/11440465/Zeenews_English_Web/Zeenews_English_AS_Inarticle_1_300x250', [300, 250], {});
}
/*if(pl>8){
if(i==(pl-2)){d.insertAfter(t);fillElementWithAd(d, '/11440465/Zeenews_English_Web/Zeenews_English_AS_Inarticle_1_300x250', [300, 250], {});
}
}*/
});
}
//var $dfpAdrhs = $('.main-rhs' + x).children().find('.adATF').empty().attr("id", "ad-300-" + x); //$('.content-area > .main-article > .row > .main-rhs'+x).find('#ad-300-' + x);
//var $dfpAdrhs2 = $('.main-rhs' + x).children().find('.adBTF').empty().attr("id", "ad-300-2-" + x);//$('.content-area > .main-article > .row > .main-rhs'+x).find('#ad-300-2-' + x);
//var $dfpMiddleAd = $('.content-area > .main-article > .row').find('#ar'+x).find('#ad-middle-' + x).empty();
//fillElementWithAd($dfpAdrhs, '/11440465/Zeenews_English_Web/Zeenews_English_AS_ATF_300x250', [[300, 250], [300, 600]], {});
//fillElementWithAd($dfpAdrhs2, '/11440465/Zeenews_English_Web/Zeenews_English_AS_BTF_1_300x250', [300, 250], {});
//fillElementWithAd($dfpMiddleAd, '/11440465/Zeenews_Hindi_Article_Middle_300x250_BTF', [300, 250], {});
var instagram_script=document.createElement('script');
instagram_script.defer="defer";
instagram_script.async="async";
instagram_script.src="https://platform.instagram.com/en_US/embeds.js";
/*var outbrain_script=document.createElement('script');
outbrain_script.type="text/javascript";
outbrain_script.async="async";
outbrain_script.src="https://widgets.outbrain.com/outbrain.js";
var Omain = $("#outbrain-"+ x);
//alert(Omain + "–" + $(Omain).length);
$(Omain).after(outbrain_script);
var rhs = $('.main-article > .row > div.article-right-part > div.rhs2298285:first').clone();
$(rhs).find('.ad-one').attr("id", "ad-300-" + x).empty();
$(rhs).find('.ad-two').attr("id", "ad-300-2-" + x).empty();
//$('.main-article > .row > div.article-right-part > div.rhs2298285:first').clone().appendTo('.main-article > .row > div.main-rhs' + x);
$(rhs).appendTo('.main-article > .row > div.main-rhs' + x); */
setTimeout(function(){
var twit = $("div.field-name-body").find('blockquote[class^="twitter"]').length;
var insta = $("div.field-name-body").find('blockquote[class^="instagram"]').length;
if(twit==0){twit = ($("div.field-name-body").find('twitterwidget[class^="twitter"]').length);}
if(twit>0){
if (typeof (twttr) != 'undefined') {
twttr.widgets.load();
} else {
$.getScript('https://platform.twitter.com/widgets.js');
}
//$(twit).addClass('tfmargin');
}
if(insta>0){
$('.content > .left-block:last').after(instagram_script);
//$(insta).addClass('tfmargin');
window.instgrm.Embeds.process();
}
}, 1500);
}
});
/*$("#loadmore").click(function(){
x=$(next_selector).attr('id');
var url = $(next_selector).attr('href');
disqus_identifier="ZNH" + x;
disqus_url = url;
handle.autopager('load');
history.pushState(" ,", url);
setTimeout(function(){
//twttr.widgets.load();
//loadDisqus(jQuery(this), disqus_identifier, disqus_url);
}, 6000);
});*/
/*$("button[id^='mf']").live("click", disqusToggle);
function disqusToggle() {
console.log("Main id: " + $(this).attr('id'));
}*/
$(document).delegate("button[id^='mf']", "click", function(){
fbcontainer="";
fbid = '#' + $(this).attr('id');
var sr = fbid.replace("#mf", ".sr");
//console.log("Main id: " + $(this).attr('id') + "Goodbye!jQuery 1.4.3+" + sr);
$(fbid).parent().children(sr).toggle();
fbcontainer = $(fbid).parent().children(sr).children(".fb-comments").attr("id");
//console.log(fbcontainer);
//var commentsContainer = document.getElementById(fbcontainer);
//commentsContainer.innerHTML = ";
});
/************Player Code ***********/
var title, imageUrl, description, author, shortName, identifier, timestamp, summary, newsID, nextnews;
var previousScroll = 0;
//console.log("prevLoc" + prevLoc);
$(window).scroll(function(){
var last = $(auto_selector).filter(':last');
var lastHeight = last.offset().top ;
//st = $(layout).scrollTop();
//console.log("st:" + st);
var currentScroll = $(this).scrollTop();
if (currentScroll > previousScroll){
_up = false;
} else {
_up = true;
}
previousScroll = currentScroll;
//console.log("_up" + _up);
var cutoff = $(window).scrollTop() + 64;
//console.log(cutoff + "**");
$('div[id^="row"]').each(function(){
//console.log("article" + $(this).children().find('.left-block').attr("id") + $(this).children().find('.left-block').attr('data-url'));
if($(this).offset().top + $(this).height() > cutoff){
//console.log("$$" + $(this).children().find('.left-block').attr('data-url'));
if(prevLoc != $(this).children().find('.left-block').attr('data-url')){
prevLoc = $(this).children().find('.left-block').attr('data-url');
$('html head').find('title').text($(this).children().find('.left-block').attr('data-title'));
$('meta[name=description]').attr("content",$(this).children().find('.left-block').attr('data-summary'));
$('meta[name=keywords]').attr("content",$(this).children().find('.left-block').attr('data-keyword'));
$('meta[name=news_keywords]').attr("content",$(this).children().find('.left-block').attr('data-keyword'));
pSUPERFLY.virtualPage(prevLoc,$(this).children().find('.left-block').attr('data-title'));
//console.log("Summary: " + $(this).children().find('.left-block').attr('data-summary'));
//console.log("Keyword: " + $(this).children().find('.left-block').attr('data-keyword'));
//history.pushState(" ,", prevLoc);
loadshare(prevLoc);
}
return false; // stops the iteration after the first one on screen
}
});
if(lastHeight + last.height() < $(document).scrollTop() + $(window).height()){
//console.log("**get");
url = $(next_selector).attr('href');
x=$(next_selector).attr('id');
//console.log("x:" + x);
//handle.autopager('load');
/*setTimeout(function(){
//twttr.widgets.load();
//loadDisqus(jQuery(this), disqus_identifier, disqus_url);
}, 6000);*/
}
//lastoff = last.offset();
//console.log("**" + lastoff + "**");
});
//$( ".content-area" ).click(function(event) {
// console.log(event.target.nodeName);
//});
/*$( ".comment-button" ).live("click", disqusToggle);
function disqusToggle() {
var id = $(this).attr("id");
$("#disqus_thread1" + id).toggle();
};*/
//$(".main-rhs2298285").theiaStickySidebar();
var prev_content_height = $(content_selector).height();
//$(function() {
var layout = $(content_selector);
var st = 0;
///});
}
}
});
/*}
};*/
})(jQuery);
(function() {
var reset_scroll;
$(function() {
return $("[data-sticky_column]").stick_in_parent({
parent: "[data-sticky_parent]"
});
});
reset_scroll = function() {
var scroller;
scroller = $("body,html");
scroller.stop(true);
if ($(window).scrollTop() !== 0) {
scroller.animate({
scrollTop: 0
}, "fast");
}
return scroller;
};
window.scroll_it = function() {
var max;
max = $(document).height() – $(window).height();
return reset_scroll().animate({
scrollTop: max
}, max * 3).delay(100).animate({
scrollTop: 0
}, max * 3);
};
window.scroll_it_wobble = function() {
var max, third;
max = $(document).height() – $(window).height();
third = Math.floor(max / 3);
return reset_scroll().animate({
scrollTop: third * 2
}, max * 3).delay(100).animate({
scrollTop: third
}, max * 3).delay(100).animate({
scrollTop: max
}, max * 3).delay(100).animate({
scrollTop: 0
}, max * 3);
};
$(window).on("resize", (function(_this) {
return function(e) {
return $(document.body).trigger("sticky_kit:recalc");
};
})(this));
}).call(this);
body{overflow:hidden}
.article-tag-link{margin:5px 0px;padding:0px;font-size:14px;font-weight:700;color:#e21727;text-transform:uppercase;}
.article-tag-link a{color:#e21727;}
.article-widgetpara{font-size:38px;color:#191c20;line-height:normal;margin-bottom:10px;}
.article-widgetpara a{font-size:38px;color:#191c20;line-height:normal;}
.widget-image-block{position:relative;height:270px;overflow:hidden;}
.stry_ldmore{width:100%;position:absolute;bottom:0px;text-align:center;display:block;}
.stry_fdr{bottom:0;background:linear-gradient(to bottom, rgba(255, 255, 255, 0) 0%, rgba(255, 255, 255, 1) 100%) repeat scroll 0 0 rgba(0, 0, 0, 0);height:200px;position:absolute;width:100%;}
.stry_shwmre{background:#2089ff;color:#FFF;cursor:pointer;padding:10px 20px;text-align:center;position:relative;display:inline-block;left:50%;margin-left:-83px;border-top-left-radius:5px;border-top-right-radius: 5px;}
.stry_shwmre:hover{background:#1581f9}
.wid-line{border-bottom:1px solid #2089ff; position:absolute;bottom:0;width:100%;}
.widget-vs{padding-left:inherit;padding-right:inherit;}
.white-txt{color:#FFF !important;}
.article-head-block p{font-size:18px;color:#444;line-height:26px}
.play-b{width:70px;height:70px;top:50%;left:50%;position:absolute;z-index:1009;cursor:pointer;margin-left:-35px;margin-top:-35px;bottom:inherit;right:inherit;}
function on_load_google_ad(){
googletag.cmd.push(function() {
googletag.defineSlot('/11440465/Zeenews_English_Web/Zeenews_English_AS_ATF_970x90', [[970, 90], [970, 250], [970, 66], [728, 90]], 'div-gpt-ad-1504525832454-0').addService(googletag.pubads().setTargeting('category', ["World","Coronavirus","Coronavirus News","Brazil","Jair Bolsonaro","Coronavirus Brazil"]));
googletag.defineSlot('/11440465/Zeenews_English_Web/Zeenews_English_AS_ATF_300x250', [[300, 600], [300, 250]], 'div-article-rhs-atf-ad').addService(googletag.pubads().setTargeting('category', ["World","Coronavirus","Coronavirus News","Brazil","Jair Bolsonaro","Coronavirus Brazil"]));
googletag.defineSlot('/11440465/Zeenews_English_Web/Zeenews_English_AS_BTF_1_300x250', [300, 250], 'div-gpt-ad-1504525832454-2').addService(googletag.pubads().setTargeting('category', ["World","Coronavirus","Coronavirus News","Brazil","Jair Bolsonaro","Coronavirus Brazil"]));googletag.defineSlot('/11440465/Zeenews_English_Web/Zeenews_English_AS_OOP_1x1', [1, 1], 'div-gpt-ad-1504526235866-6').addService(googletag.pubads().setTargeting('category', ["World","Coronavirus","Coronavirus News","Brazil","Jair Bolsonaro","Coronavirus Brazil"]));
googletag.pubads().disableInitialLoad();
googletag.pubads().enableAsyncRendering();
googletag.pubads().set('page_url','https://zeenews.india.com/');
googletag.pubads().enableSingleRequest();
googletag.pubads().collapseEmptyDivs();
googletag.enableServices();
});
googletag.cmd.push(function() { googletag.display('div-article-rhs-atf-ad'); });
googletag.cmd.push(function() { googletag.display('div-gpt-ad-1504525832454-0'); });
googletag.cmd.push(function() { googletag.display('div-gpt-ad-1504525832454-2'); });
googletag.cmd.push(function() { googletag.display('div-gpt-ad-1504526235866-6'); });
}
on_load_google_ad();
function sendAdserverRequest() {
try {
if (pbjs && pbjs.adserverRequestSent) return;
googletag.cmd.push(function() {
googletag.pubads().refresh();
});
} catch (e) {
googletag.cmd.push(function() {
googletag.pubads().refresh();
});
}
}
setTimeout(function() { sendAdserverRequest(); }, 5000);
function on_load_fb_twitter_widgets(){
(function(d, s, id) {
var js, fjs = d.getElementsByTagName(s)[0];
if (d.getElementById(id)) return;
js = d.createElement(s); js.id = id;
js.src = "https://connect.facebook.net/en_US/sdk.js#xfbml=1&version=v2.9";
fjs.parentNode.insertBefore(js, fjs);
}(document, 'script', 'facebook-jssdk'));
window.twttr = (function(d, s, id) {
var js, fjs = d.getElementsByTagName(s)[0],
t = window.twttr || {};
if (d.getElementById(id)) return t;
js = d.createElement(s);
js.id = id;
js.src = "https://platform.twitter.com/widgets.js";
fjs.parentNode.insertBefore(js, fjs);
t._e = [];
t.ready = function(f) {
t._e.push(f);
};
return t;
}(document, "script", "twitter-wjs"));
}
//setTimeout(function() { on_load_google_ad(); }, 5000);
setTimeout(function() {
on_load_fb_twitter_widgets();
}, 5000);
Tags :
news